The US Presidential elections are not that far away and all the newspapers and news channels seem to be talking only about it. We realise the fact that not all of you are that enthusiastic about politics, but still, it never hurts to know your candidates and put your precious vote to proper use.
National Elections are fast approaching and the campaigns are in a full swing. Both the Democratic and the Republicans are all set for what is going to be USA's one of the most interesting Presidential elections. It's high time that you get yourself registered as a voter for the ensuing elections. But having said that, it's not that easy. Each US state has its own registration procedure, rules, and requirements. Despite having elections every now and then, the process is still quite messy and cumbersome.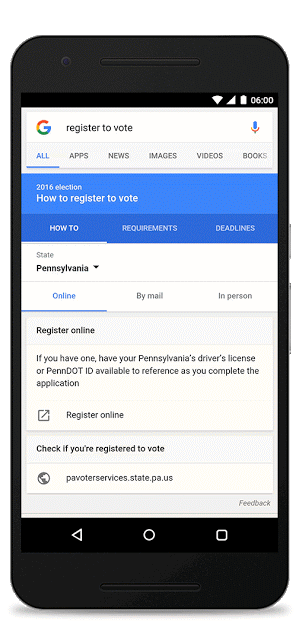 Google has finally decided to come to the rescue of the perplexed voter by optimising its search related to the election registration queries. So, if you now type "How to register to vote" or something of that sort, Google will provide you detailed information regarding the registration process, deadlines, requirements and every other relevant information. This is a great initiative from Google and we hope that we would see more of these endeavours in future.