The latest iteration of Google Play Store – v7.8.15 – started rolling out yesterday, roping in a couple of UI tweaks and some big changes under the hood. The update isn't rolling out officially, but its APK is available on several mirror sites. The teardown of the APK has signaled that some breakthrough Play Store features that would be hitting the shelves very soon. For instance, support for Instant Apps, built-in malware scanner, and a way for developers to reward users for pre-registering for an app or game.
While this teardown reveals some prolific future features, it is important to note that nothing's officially confirmed and things could go south anytime. Many of these features could be missing when the final version hits your device. Thus, it's highly advised to read about these features with a pinch of salt.
Instant Apps support
While we've been hearing about Instant Apps since I/O 2016, there's still more to do to get the feature aboard. To those who don't know, support for Instant apps will give the user a chance to test and have a look at the app first before downloading. You can "stream" parts of existing Android apps to try out the app in its native look, without installing it completely.
The teardown of the latest Play Store App brings some notable settings that will be used with Instant Apps feature comes into action. As of now, it's just a new Settings screen, but it includes a few key features like the options to completely disable Instant Apps or change the account they will associate with. Plus, there is also an option titled "turn on required setting" that will allow the links to be opened in apps.
Play Protect
The previous version of the Play Store included strings for a built-in "Verify Apps" feature –  a malware scanner included within the Play Store. That security feature now has an official name and is being called "Play Protect". The various lines of codes revealed during teardown included the standard Learn More links and even the promissory statement that said installed apps have been "Verified by Play Protect". Google is trying really hard to up the visibility of its built-in virus scanner, which also suggests that the feature could have a lot more on offer.
Pre-registration rewards
Back in 2015, Google introduced a pre-registration system on Play Store that allowed big game developers to create a hype about their upcoming games and notify interested users when they're live. The feature has been live since then, but practically, its use has been nothing more than a means of notification for those who've pre-registered for the game.
That said, cues in the latest update suggest that Google may actually offer some type of reward for users who pre-register and join the waitlist for an upcoming game. The strings mention target milestones that are met when enough people join the waitlist. Naturally, this would encourage the users to spread a word about the game in hopes of building toward that next target.
No more toggle Adding New Apps' Icon To The Home Screen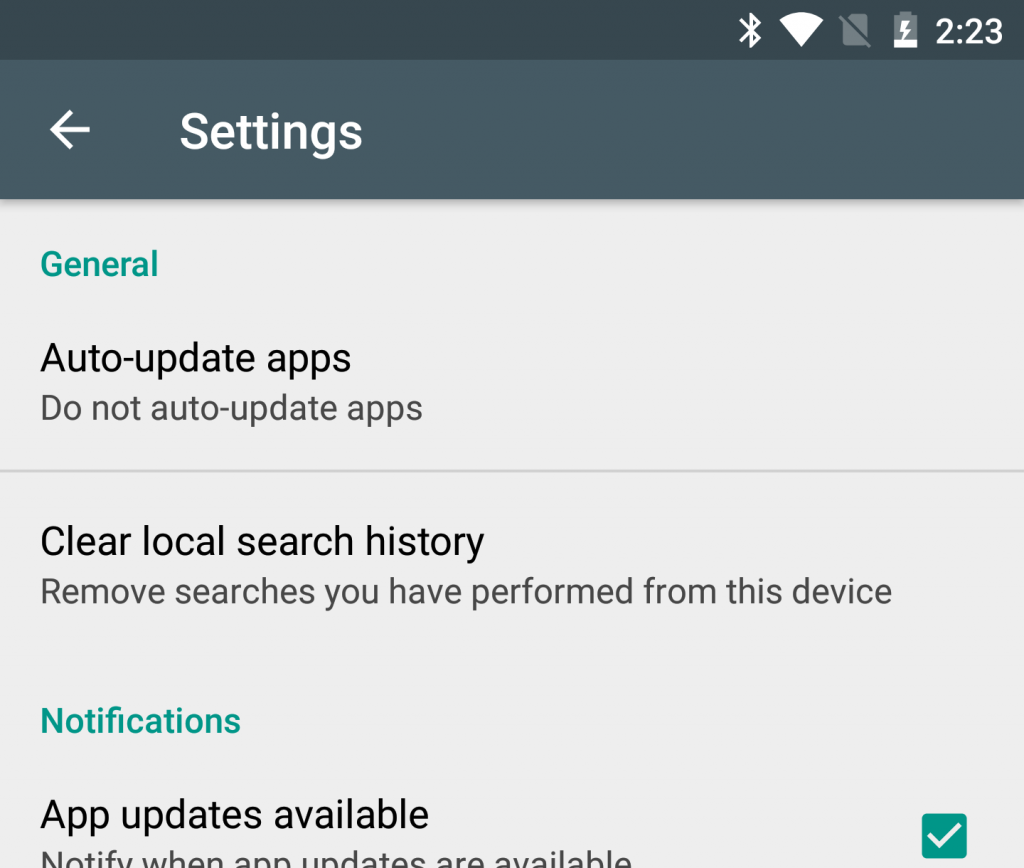 Though it may not make much of a difference, Google has decided to do away with the "Add icon to home screen toggle" in Play Store settings. This change isn't a big one and is only applicable on Nexus devices running the Google launcher, at least as of now. Perhaps, it is the first step and Google will gradually remove the toggle from all launchers, making things a bit more consistent on the store.
Automatic App Update Reminder
In another minor change, the update tab of the My Apps screen features a subtle reminder about whether automatic app updates are enabled or not. Whatever your setting is, you'll be seeing a message reflecting its status under the count of pending updates. The reminder is for all but it's especially useful for those who keep switching from Wi-Fi to mobile data, tipping them to disable auto-app update whenever they're on mobile data.
Having that said, interested users can download Google Play Store v 7.8.15 APK from APK Mirror. The official version could take days to hit your device, while this APK installs just like any other app and instantly updates your existing store. But, keep in mind, you won't be seeing too many changes after installing the app. Most of these features are probably not live yet, and or may only be live for a few percent of users.