Just few minutes back we have spotted the alleged Google Nexus 8 tablet on Geekbench 3 test site, wherein we can clearly see in the results the name of Nexus 8. Does this mean a surprise is being planned for the nexus lovers by the Google ?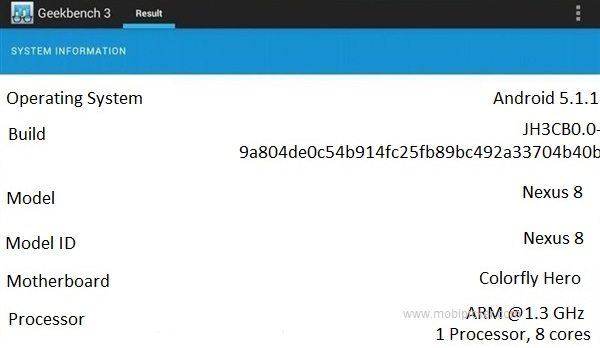 In the geekbench test screenshot we can see that it will house an octa-core processor however the manufacturer of the chip is not known yet. We are assuming it may not be the Qualcomm as the manufacturer is producing the chipset with a clocked frequency of 1.7GHz. Android 5.1.1 is currently running on the test device, given the introduction of Android M soon and the tablet is from google only, we can expect the commercial version when launched to adorn the latest Android M.
Until now there was no news to be heard of Google Nexus 8. After Google Nexus 7, we simply learnt about the jump to Nexus 9 and Nexus 10. Going by the conventional nomenclature, the Google Nexus 8 may have a 8-inch screen.
It is important to note that, there is no official confirmation or revelation on Google Nexus 8 by the company so we have to take this news with a pinch of salt till there is an official confirmation from the Google.