Before 2015, Nexus devices were considered as affordable high-end smartphones with no surprising features. However, Google took a huge leap with the LG Nexus 5X and the Huawei Nexus 6P that came out as excellent premium Nexus phones with great specs and build quality. That, coupled with great pricing, led to the success of Nexus 2015 phones. So it is obvious that fans would expect much better Google Nexus 2016 smartphones this year.
Google (HTC) Nexus 2016 Rumors and Leaks
Two Nexus phones have been launched in 2015 Q4. Earlier rumors were suggesting that Google would be launching at least two more Google Nexus 7 phones along with a new Nexus 7 tablet. It was being said that Google is happy with the way the Nexus 6P has been manufactured by Huawei, which is why Huawei and Google would come together in 2016 for the upcoming Nexus 7 phone or tablet.
However, all that changed when the information about the involvement of HTC with Google came out. Since then, we have been hearing so much about the HTC Nexus 2016 smartphones, and it is being said that HTC will be manufacturing two Nexus 2016 devices this year. It is possible that Huawei may come out with a Nexus tablet, but it's just a rumor.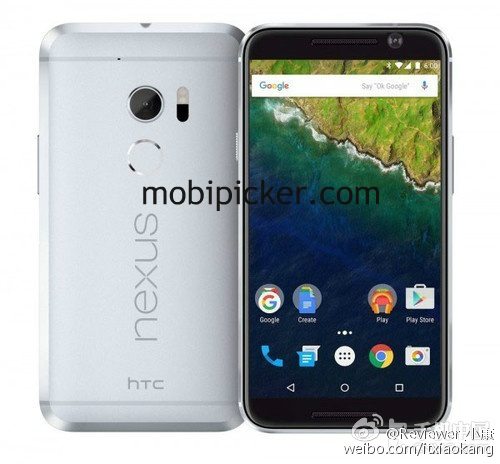 Talking about the 2016 HTC Nexus phones, the two phones have been codenamed as HTC Marlin and HTC Sailfish. It is being said that the HTC Marlin will resemble HTC's current flagship, the HTC 10. That would be a great thing as HTC is known for its great design and greater build quality in smartphones.
Meanwhile, it is also being speculated that Google may introduce its own Nexus phone manufactured completely by Google without the involvement of any other smartphone company. This is an unconfirmed rumor, but we would love to see Google's own take on smartphones.
HTC Nexus 2016 – HTC Marlin and Sailfish – Specs and Features
The Nexus 5X and 6P set high standards for Nexus phones, so the HTC Nexus phones will obviously be a notch higher. The HTC-made Google Nexus 2016 phones are rumored to get AMOLED/Super AMOLED screens and high-resolution cameras with OIS, PDAF, 4K support and more. Fast charging, fingerprint sensor, and USB Type-C are the obvious guesses. Looking at the growing trend of VR technology in smartphones, we could expect the upcoming Nexus phones to provide native support for VR content.
Some latest leaks say that of the two upcoming HTC Nexus phones, the bigger one (probably the HTC Nexus Marlin) might get a 5.5-inch 2K screen, while the smaller HTC Nexus Sailfish might flaunt a smaller 5-inch Full HD screen. Also, the bigger, more expensive phone will come with Snapdragon 821 and 4GB RAM, while the more affordable HTC Nexus 2016 will get stripped down specs. This is a similar strategy followed last year- a flagship-level phone with a larger screen and better specs, and a more affordable phone with good specs and smaller screen.
Talking about rumors, the HTC Marlin Nexus 2016 is expected to come with a 12MP rear and an 8MP front camera. It is rumored to get a 3450mAh battery, while the Nexus Sailfish may get a smaller 2770mAh battery. Expect more specs to leak out as the HTC Sailfish release date draws nearer.
HTC Nexus 2016  (Marlin and Sailfish) Price
Nothing is known as of now about the HTC Marlin price. But all the latest reports currently suggest that the HTC Sailfish price will be lesser than the Marlin's. The Marlin will be the costlier phone with higher-end specs, while the Sailfish will be the successor to the Nexus 5X.
Google Nexus 2016 (HTC Marlin and Sailfish) Release Date
All the reports and sources suggest that Google will launch the two HTC Nexus 2016 phones in August. This should be the HTC Marlin release date as well as the launch of the Huawei Nexus tablet (if there's going to be one). Let's wait for more info before making any more guesses.