Cars are increasingly becoming electronic-oriented. At one point in time, everything about the car was mechanical. Slowly but gradually, automotive electronics has changed the way we look at cars. Electronic Control Units – more popularly known as ECUs – began to make inroads into cars and today we have transmission electronics, chassis electronics, passive safety electronics, driver assistance, auto-assist and more. Several car manufacturers are looking at incorporating more and more electronics into cars. At Pepcom's Digital Experience, Hyundai demonstrated Blue Link Agent for Google Assistant. This technology is now available for use by Hyundai owners.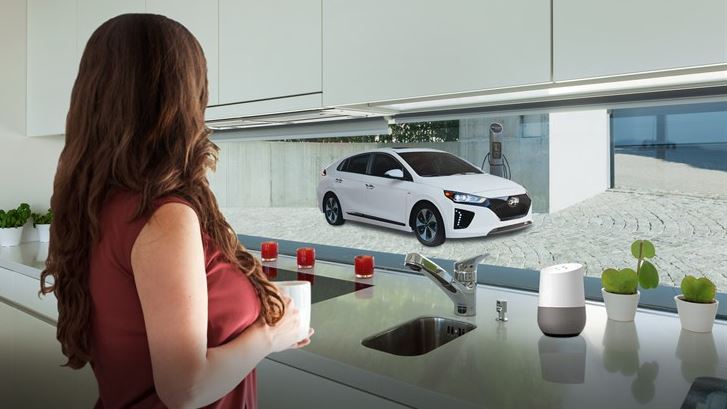 Hyundai owners can now control cars with Google Assistant
During a press conference at the New York International Auto Show, Hyundai announced that Blue Link Agent for Google Assistant will be available for use by Hyundai owners. With Blue Link Agent for Google Assistant, users will be able to control various functions of a Hyundai vehicle with just their voice. Hyundai owners can now issue "commands" to their cars and the cars will recognize these and take appropriate actions.
For example, your Hyundai car will now respond to "Ok Google, Tell Blue Link to start my Santa Fe". Or you could tell "Ok Google, set the temperature to 82 degrees". Or "Ok Google, ask Blue Link to unlock my car". In order to make the voice-activated features available to all Hyundai owners, Hyundai has announced three years of free Blue Link Connected Care, Remote and Guidance packages for all 2018 Hyundai models and the 2017 IONIQ lineup.
Blue Link is aimed at bringing seamless connectivity directly to Hyundai cars. With technologies like Destination Search, Remote Door Lock/Unlock, Car Finder, Remote Start with Climate Control, Enhanced Roadside Assistance and Stolen Vehicle Recovery, Blue Link lets users access the services from the buttons on the rearview mirror and center stack. The services can also be accessed from the web or via the Blue Link owners' smartphone app. What's more, some of the features, the company claims, can also be controlled using latest Apple Watch and Android Wear!
Here are some examples of exchanges between Google Home and Hyundai Blue Link, as revealed by Hyundai-
You: Ok Google, tell Blue Link to send the address of the nearest Starbucks to my Santa Fe.

Google Assistant: The address I found for the nearest Starbucks is 350 Fifth Ave, New York, New York. Would you like to send it to your blue Santa Fe?

You: Yes.

Google Assistant: A request to send point of interest has been sent.

***********

You: Ok Google, what is the weather like today?

Google Assistant: Today's forecast for Ann Arbor is 38 degrees with rain and snow.

You: Ok Google, ask Blue Link to Start my Tucson and set the temperature to 75 degrees.

Google Assistant: To remote start and set climate control of your black Tucson to 75 degrees, please say your Blue Link PIN. Or, say cancel.

You: 9915

Google Assistant: A request to remote start and set climate control has been sent.

***********