Continuum is one of the most interesting Windows 10 features. It allows you to have a full Windows 10 experience when connecting your mobile device to a monitor. GOLE1 offers this and more since it is constructed to be a full Windows 10 device, packing a 5-inch 720P (1280×720) display that'll allow you to use Windows on-the-go.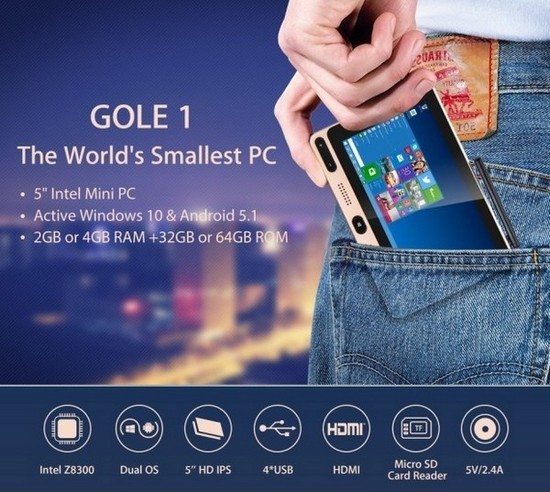 GOLE 1 is offered in two flavors; 2 gigs of ram and 32 GB of internal storage, or 4 gigabytes of RAM with 64 GB of internal storage. SD card slot is also available, but the real interesting feature is that GOLE1 supports external hard drivers, practically removing the storage limits.
This mini PC is packed with connectors; USB, HDMI, Ethernet ports, you name it. It is powered by Intel Cherry Trail (T3) Z8300 quad-core CPU; it also offers dual boot feature, in addition to Windows 10, GOLE 1 comes with Android 5.1 making it a pretty versatile device, enabling you to use both Windows and Android. The price starts at $99 for 2GB of RAM and 32GB of internal storage; 4GB of Ram and 64GB of internal storage version is available at $109. The device is pretty sleek and has relatively small dimensions, three buttons on the front and front speakers.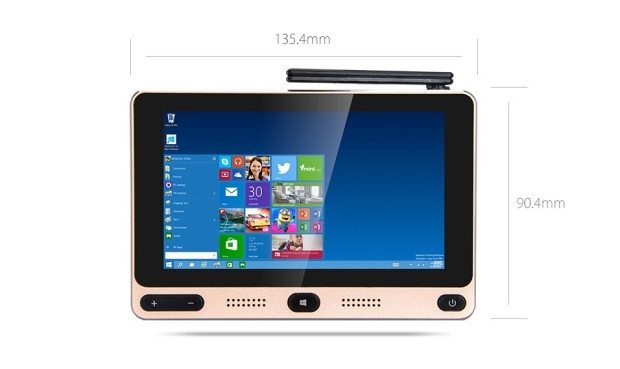 An Indiegogo campaign is currently under way, and as of now ARMDevices, a company behind the project is already raised more than $46,000, way more than the $30,000 goal. There are still 13 days left before the end of the campaign so you have the chance to back it, just follow this link. See detail specs bellow.