GNOME Calendar app is now integrated into the Ubuntu OS by default, and with that integration, the app is getting a ton of attention; and since development cycle of Gnome 3.22 desktop environment is ongoing that attention is growing by the day.
According to Marius Nestor from Softpedia, these major improvements will affect month and year views. Version 3.21.2 of the Gnome 3.22 desktop environment is due for release on September 21, 2016, but it is already released for public beta testers and early adopters. It is reportedly bringing numerous improvements to its components and core applications.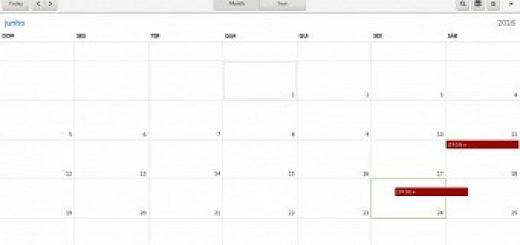 The development team responsible for GNOME Calendar app announced the availability of Gnome Calendar 3.21.2 yesterday, and the new release is packed with improvements regarding the Month and Year views. IT seems that guys from Softpedia managed to acquire internal changelog of the new GNOME Calendar 3.22 and according to it, there are many changes.
The first thing that comes to attention is that, from now on, the users will be able to change the month just by using the keyboard; further, using drag and drop function in the Month view, users will be able to easily reschedule events. The new feature is also implemented in the Year View. A newly implemented function allows users to view particular month events by just clicking on a month's name, neat. Also, the navigation inside Year View is getting major optimizations.
Other significant changes coming with GNOME  Calendar 3.21.2 include header capitalization fixes, updates to the CSS files in order to comply with the latest GTK+ 3.21 toolkit, and support for the "Today" button to be insensitive when viewing the current day. These are not all the improvements, you can see all  of them in the list below.
GNOME Calendar 3.21.2 Changes:
Updated translations for:
Basque (Inaki Larranaga Murgoitio)
Brazilian Portuguese (Enrico Nicoletto)
Chinese (Cheng-Chia Tseng)
Czech (Marek Černocký)
Danish (Ask Hjorth Larsen)
Dutch (Hannie Dumoleyn)
Finnish (Jiri Grönroos)
French (Guillaume Bernard)
Friulian (Fabio Tomat)
Galician (Marcos Lans)
German (Bernd Homuth)
Greek (Efstathios Iosifidis)
Hungarian (Balázs Úr)
Icelandic (Sveinn í Felli)
Italian (Milo Casagrande)
Japanese (Jiro Matsuzawa)
Kazakh (Baurzhan Muftakhidinov)
Korean (Seong-ho Cho)
Latvian (Rūdolfs Mazurs)
Lithuanian (Aurimas Černius)
Occitan (Cédric Valmary)
Persian (Arash Mousavi)
Polish (Piotr Drag)
Portuguese (Duarte Loreto, Tiago Santos)
Russian (Stas Solovey)
Scottish Gaelic (GunChleoc)
Serbian (Марко М. Костић)
Slovak (Dusan Kazik)
Slovenian (Matej Urbančič)
Spanish (Daniel Mustieles)
Swedish (Anders Jonsson)
Thai (Akom Chotiphantawanon)
Turkish (Muhammet Kara)
Ukrainian (Daniel Korostil)
Add the ability to change the month when navigating with keyboard (pandusonu2)
Make the "Today" button insensitive when the current day is visible (Javier Sánches Ochango)
Keep the Sources dialog alive after closing it (fosero)
Adapt the CSS to Gtk+ 3.21 strictness (fosero)
Define the first week day in the build script (Isaque Galdino)
Show all events of a month when clicking in the month name (Isaque Galdino)
Vastly improve the Year view's navigator (Isaque Galdino)
Correct the header capitalization (Anwar Sadath)
Define ABOUT_NLS when configuring the project
Fix various miscalculations in Month View
Drop the usage of our custom .views CSS class
Various GDateTime reference fixes
Add Drag n' Drop capabilities to Month and Year View