Radeon RX 460 is the lowest power member of the Radeon 400 family. This is also the smaller of the two Polaris GPUs and is touted as a low-power desktop star. RX 460 will ship with 14 CUs enabled. With 896 stream processors enabled, the base fclock of RX 460 will clock slightly aggressive (1090MHz) compared to RX 470 (925MHz) while the boost clock is the same at 1200MHz. The RX 460 comes equipped with two options for memory – 2GB and 4GB GDDR5 clocked at 7Gbps. When it comes to power consumption, this card stands apart. Rated at sub-75W, this will cater to an important market segment for GPU vendors.
It is touted as the best bet for AMD in the low power segment, considering what happened to AMD when NVIDIA introduced the Maxwell architecture. The RX 460 is not as aggressive about performance as other Polaris cards. This is expected because of the sub-75W spec. AMD expects RX 460 to be a strong contender in the low power market and views it as a suitable upgrade for gamers who are in the process of upgrading from iGPUs.
Leaked images by Videocardz.com of the Radeon RX 460 show a Gigabyte RX 460 Windforce and Asus RX 460 Dual. The Gigabyte RX 460 Windforce has the orange and black look, as is with the other Gigabyte cards. The Asus GPU comes in a snow white theme. If rumors are to be believed, the Gigabyte RX 460 will have a 6 pin power connector just like the Asus version. The Asus variant clocks faster than the reference model and has six pin power connector. The Asus model will therefore, cost more than the reference design.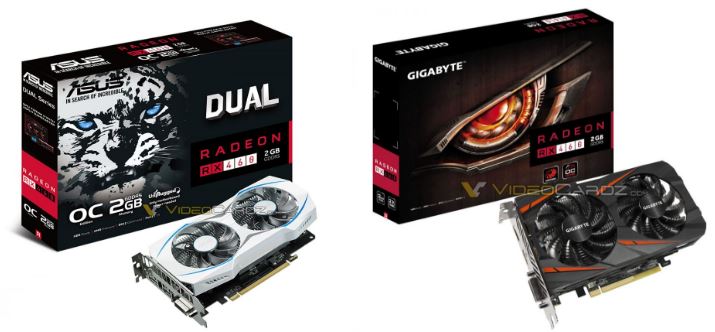 If you are looking to buy the RX 460, the Gigabyte RX 460 Windforce and the Asus Dual are worth considering. The 'Dual' in Asus Dual means that there are two fans, it does not refer to a number of GPUs. The number of GPUs is still one. Priced at a decent range and good at performance, these two offer the best of both worlds.
As reported by overclocked.net, below are the specifications of AMD's RX 400 series of GPUs, including ASUS' RX 460 Strix Gaming –
AMD RX 460
ASUS RX 460
Strix Gaming
AMD RX 470
AMD RX 480 4GB
AMD RX 480 8GB
GPU Atchitecture
Polaris 11
Polaris 11
Polaris 10
Polaris 10
Polaris 10
CUs
14
14
32
36
36
GPU core clock speed
1090MHz
-
926MHz
1120MHz
1120MHz
GPU Boost Clock Speed
1200MHz
1256MHz
1206MHz
1266MHz
1266MHz
GPU Stream Processors
896
896
2048
2304
2304
Memory Cappacity
2GB or 4GB
4GB
4GB
4GB
8GB
Memory Bus Size
128-bit
128-bit
256-bit
256-bit
256-bit
Memory Speed
7000MHz
7000MHz
6600MHz
7000MHz
8000MHz
Memory bandwidth
112GB/s
112GB/s
211GB/s
224GB/s
256GB/s
Backplate
No
No
No
No
No
TDP
<75W
75W+
120W
150W
150W
Power connections
None
1x 6-pin
1x 6-pin
1x 6-pin
1x 6-pin
Let us know which variant of the RX 460 you prefer best.