Gears of War 4 gameplay trailer was revealed yesterday and the blood from that is still fresh. Gears of War returns soon with a next gen Fenix and a next gen Horde mode, dubbed Horde 3.0. We're here to fill you in on the new features in the Gears of War 4 Horde gameplay.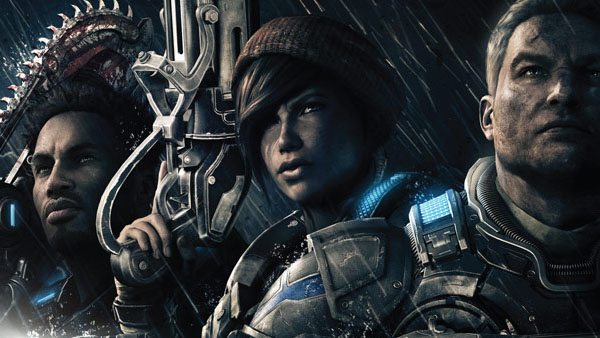 Gears of War 4 Horde Gameplay – The Fabricator
In Horde you and up to 4 other players can combine your efforts to turn 50 increasingly tough waves of enemies into scraps for the picking. Every 10th wave a boss turns up to ruin your life. However, in this new iteration of Horde mode, everything begins with a crate looking gadget called the Fabricator. It is a military-grade indestructible 3D printer. The Fabricator spits out battlefield hardware. You can use this to create traps and blockades to have a better chance of surviving subsequent waves of enemies. However, to get these things from the Fabricator, you need energy which comprises of glowing yellow stuff coming out of enemies when you kill them.
Class System
Gears of War 4 Horde Gameplay adds a new class base system which encourages players to specialize in their roles in the team. You have the option to choose between soldier, scout, sniper, heavy or engineer. The soldier is your classic boots-on-the-ground grunt. Heavy is known for his starting weapon called the Boomshot. Sniper is best suited for hanging back and head shotting enemies. The Scout is crucial for harvesting power from everybody's kills. Engineer is responsible for repairing structures like barricades and turrets. Zombie Dom
Zombie Dom is among the skins on offers as part of the Gears of War 4 pre-order. It's not just in Horde Mode but in the campaign and multiplayer as well. Playing as the reanimated corpse of Marcus Fenix sounds enticing and it is. So, be sure to pre-order the game to get access to this new skin. Cards and Skills
In Gears of War 4 Horde Gameplay, cards are how you get hold of customization options. These include cosmetic items such as weapons skins and emblems. However, these also include multiplayer challenges, bounties and skill cards for your horde classes. Cards come in packs. It's a lot similar to the card-based economy in Hearthstone where you buy and craft new cards.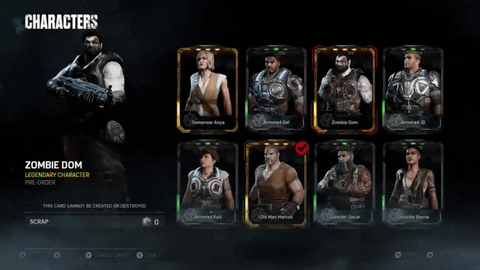 Weapons Locker
The Fabricator can also generate the all new weapons locker. You can use it to stash weapons you pick up during each horde wave. This will allow you to use them later on and prevent you from losing them. So, for example, you can save up really good weapons for a later wave or a boss wave. Cross Play
Xbox One and PC players can play the Gears of War 4 Horde Gameplay together. Thanks to the new Xbox Play initiative which allows this to happen. So, if one of your friends owns the game on Xbox One and you own it on PC, you two can have fun in Horde 3.0 together. Let us know what you think of our Gears of War 4 Horde Gameplay impressions.