Gears of War 4 gameplay launch trailer is easily the most spectacular thing we saw this week. Before this, it was the Star Wars Battlefront Death Star DLC trailer. However, Microsoft just upped their game with the release of the new Gears of War 4 Gameplay Launch Trailer. We're surprised to see how so much content was packed into this single trailer. We're going to lay out the whole trailer for you bare bones as we dissect it frame by frame.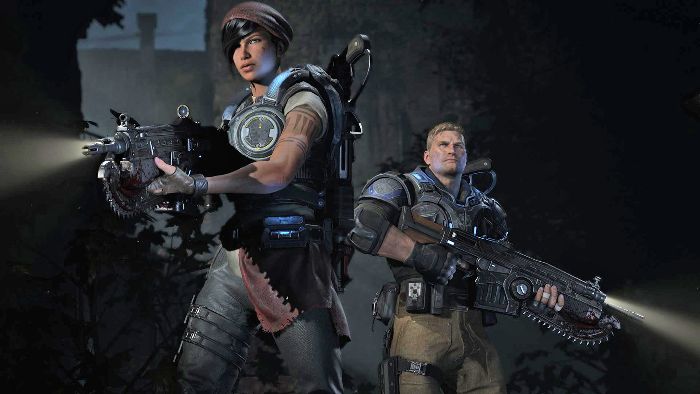 Gears of War 4 Gameplay Launch Trailer show all the Pre-Order bonuses
The pre-order will include exclusive character and weapon skins. These new skins include Zombie Dom, Old Man Marcus, and Tomorrow Anya.
Motorbikes?
Yes! we were as surprised as you. Right in the middle of the action you see Marcus's son drive through a wall in a motorbike with his father riding on the back. Marcus is dual wielding pistols while the duo tries to escape hordes of enemies. Another one of the team mates drives through the rubble and they appear to be driving away from impending doom.
Mechs!
Yes! Climb on board one of these things to wreak havoc. The mechs look more powerful than ever. In fact, they look a lot like the one in Iron Man with a bluish hue that is easily distinguishable.
Spoiler!
A short scene shows the game's protagonist watching his father get attacked and almost killed by a giant alien bug. It doesn't show what happens till the end. So, does Marcus survive or does he simply die with his son left to step in his footsteps to lead his team and save the world from instant annihilation? Well, we'll just have to wait for the game to release and see for ourselves.
Let us know what you think of the Gears of War 4 Gameplay Launch Trailer. Stay tuned to MobiPicker for more.