9. Euro Truck Simulator 2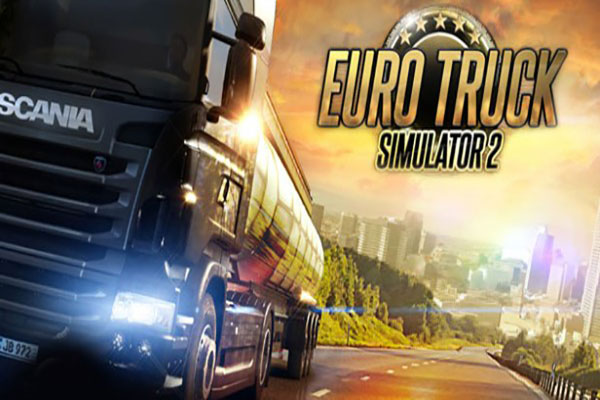 Euro Truck Simulator 2 or also known as ETS2 is SCS Software's most recent take on Driving Simulation genre. This remarkable game is the direct sequel to the popular Euro Truck Simulator and it offers a similar gameplay. With a more rewarding gameplay, enhanced mechanics and loads of new locations, Euro Truck Simulator 2 features more trucks from the renowned manufacturers. Once again the game takes you to some of the most beautiful European locations and lets you drive various long haul vehicles. Your task is to pick up goods from a number of locations on the map and deliver them without damaging. On every cargo delivery, you'll get rewarded with money that you can spend on buying more trucks and hiring more drivers.
As the sole owner of your own trucking business, you are at the liberty of setting up your business on any of the available locations. Once settled down, you can speed up the business by taking various jobs and completing them on time. If you are able to deliver the cargo undamaged, you get rewarded with a license that helps you hire more drivers. One amazing feature of the game is that it allows you to switch places with any of hired drivers. You can keep on the routes, deliver the goods and earn money. With over 70 beautiful locations, loads of truck to drive and the freedom to explore the world around you, Euro Truck Simulator 2 offers an immersive experience of driving simulations. As one of the best games like Euro Truck Simulator, you should totally try it out and enjoy the ultimate Driving experience. Euro Truck Simulator 2 is available to play on PC, Mac, and Linux via Steam.
10. City Car Driving: Car Driving Simulator
Last but not the least, City Car Driving: Car Driving Simulator is another amazing title that you must try if you love games like Euro Truck Simulator. This great title offers the best amalgamation of Physics-based Car driving and Simulation elements. It lets you learn and develop driving skills in different conditions, environments and situations by driving on the busiest roads in the City. It follows the standard Driving and Simulation formula but adds up a bit more spice in the play via the unique physics-based mechanics. With its realistic controls, environments and challenging nature, it literally feels like being part of the game world.
You can drive many types of vehicles in the game as well as enjoy completing various objectives at the same time. City Car Driving: Car Driving Simulator offers language support for various European regions and lets you drive both Right and Left-hand vehicles. This feature helps you learn a lot and that adds up to your experience of driving. With all the realistic sounds, various environments, a range of driving conditions, detailed maps, and clean 3D graphics, City Car Driving: Car Driving Simulator is a fun Driving Simulation to enjoy. You can download and play City Car Driving: Car Driving Simulator on PC and Mac OSX.