HBO has already revealed that the Game of Thrones season 7 will start on July 16 this year. Of course, there is still two months to go, but the creators of the popular series will keep you engaged by sharing new stuff now and then. Recently, HBO released a set of new pictures which give fans a closer look at the upcoming season of Game of Thrones. The pictures were shared by Entertainment Weekly, and you can have a look at them by following the source link below.
Game Of Thrones Season 7 New Pictures Released 
The new photos of Game of Thrones Season 7 give us our very first look at how big the Dragons will be in the next season. The series has always kept us updated with the growth of the Dragons. We have always seen the Dragons growing up with latest seasons. However, judging from the recently released picture, the upcoming season will feature much bigger Dragons as compared to the previous seasons. The newly released image features Dragon with Daenerys mounted on him. Although she is hardly noticeable, the picture itself is epic considering the fact that her Dragon is all ready for war.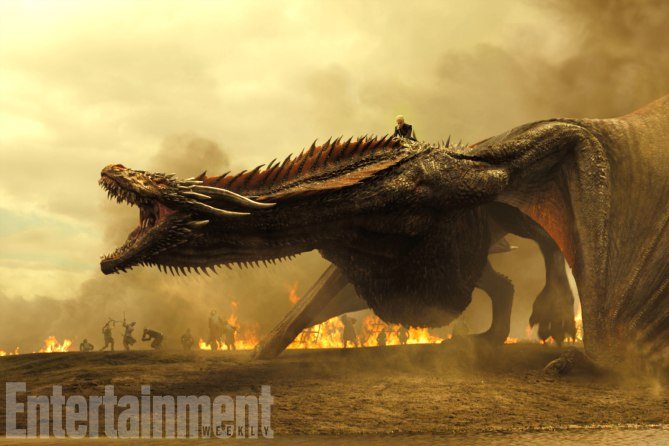 Along with this, the pictures further give us a look at what other characters will be up to in the upcoming season. Jon Snow is seen either returning or leaving Winterfell. Arya Stark is mounted upon her horse, but where she is heading is unknown. A behind the scene picture also reveals Lena Headey sitting on the Iron Throne in the Great Hall, while Nikolaj Coster-Waldau is standing beside her to protect her.
If you are curious to know which characters of the season 7 are going to survive, here are two characters who will make it to the next season.
Comment below to share your thoughts.