4. Camera Update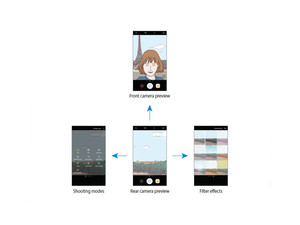 One thing we loved in Samsung device running Nougat was the camera app. Note 7 had a combination of numerous motion gestures to make camera operation a hands-free task. An upward or downward swipe into the camera app switches the rear-faced camera to front-faced and vice-versa.
Clicking a selfie has never been so easy, There are other gestures like a left or right swipe will switch into different picture modes. This comes as a moment of happiness for Galaxy S6's camera fans now they can click even better pictures with simple hand gestures.
Features that we will miss in Samsung Galaxy S6 Nougat update
Everyone just loved the Nougat update in Galaxy S7, but this time we are of the opinion that the scheduled Galaxy S6 Nougat update won't be that rich. Even the Galaxy S6 Nougat manual is silent on various awaited features. Features like the wide self-portrait mode are missing along with other modes such as Hyperlapse and Selfie Flash from the camera update of the Galaxy S6.
We will also miss the Always On Display, the Video Enhancer Mode and above all the Performance mode. However, every rumor clouding the upcoming Nougat update on Galaxy S6 will itself become clear when Samsung starts rolling out the first batch of Galaxy S6 Nougat Upgrade.
Share your thoughts in the comments below!