Samsung's latest flagship the Galaxy S8 is creating a big buzz for all the good reasons. The device – one of the finest in the category – boasts a prolific design language with superb internals. It stands out from the crowd and is doing some serious damage against the likes of iPhone 7 and LG G6. But, as stunning as it may look and feel, there's also no denying the fact that Galaxy S8 could still be made a lot better. Samsung missed a few key spots, which we're hoping to fixed when the next flagship from the company -the Galaxy Note 8 – is unveiled.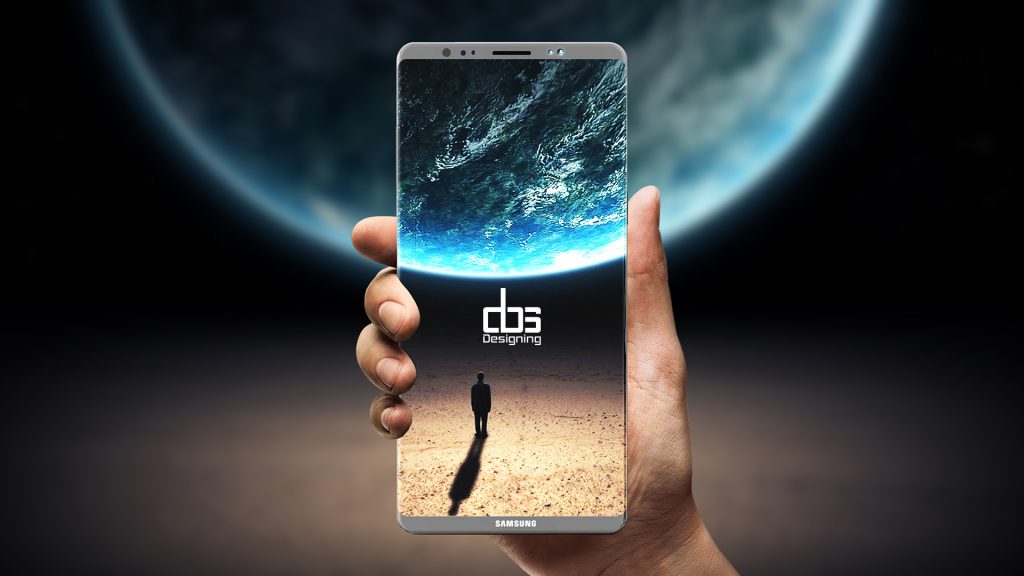 While it's still too early to begin discussions about Note 8, word goes around that Samsung is plying to implement some big changes into its design strategy – a giant leap over Galaxy S8. The device is still months away from an actual release, but the latest concept by Muhsin M. Belaal Auckburaully and DBS Designing has given us more insights into what the next Galaxy might look like. The video is purely fictional, but it'll surely get Galaxy S8 buyers jealous.
Note 8 Concept Design And Display
Seeking design cues from Sony's Xperia lineup, Auckburaully imagined a square-ish Note 8 carved completely out of metal and glass with slightly curved corners. The device features a larger screen-to-body ratio with thinner top and bottom bezels and nearly nothing on the sides. Samsung's logo is still placed at the bottom, but the bigger 6.4-inch Quad HD+ screen clearly takes all the credit, especially when taken up against Galaxy S8's 5.8-incher Infinity display.
Among other things, the volume and power rockers are on the left, while the fingerprint screen is repositioned but is still awkwardly placed under the 16-megapixel dual camera setup. Ah, I forgot to mention. The designer has also imagined Note 8 with a dual-camera setup which slightly protrudes from the surface. In our opinion, it's a decent upgrade, considering Apple has already used the feature in iPhone 7 Plus.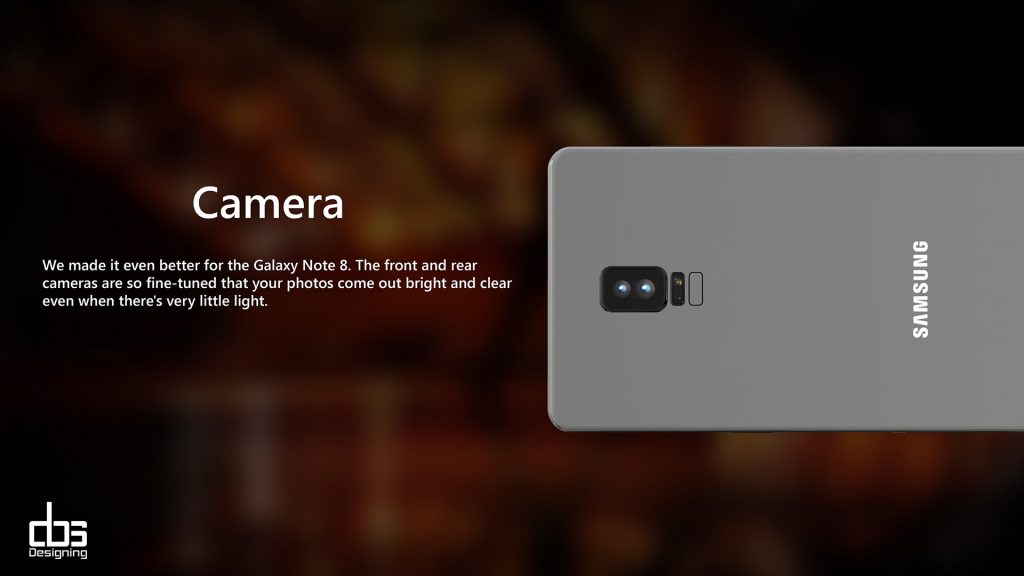 Moving to the inside, Galaxy Note 8 concept features a very strong set of specs, which basically includes 6GB RAM and 64GB or 128GB of built-in storage. There's also a microSD card slot, an iris scanner, and a huge 4,000mAh non-removable battery, which will endow support for fast charging. All of this paired with the latest processor from Exynos or Snapdragon and Android 8.0 certainly makes up a tempting package.
But, as we said, this is just a concept video and the real version of Galaxy Note 8 could be a whole lot different than what we're seeing. We presume the device will make an appearance sometime around August. Till then, you can take a look at this interesting concept and speculate on what is to come. We've included a video below.