Move over Galaxy Note 5, Galaxy Note 7 is the king of the Galaxy Note family from Samsung, and this 'simple to follow' guide will provide you with the easiest way of preordering the very first Galaxy Note to feature an iris scanner. Remember, we will be including the popular carriers of the United States and each of them have a different, but equally sweet deal, but at the end of the day, the decision will be completely yours.
Best Buy
Perhaps the best possible deal is being offered at Best Buy, because at this point, it is guaranteed that you'll be walking out of the store with a free Samsung accessory. The free items that are being offering upon preordering the Galaxy Note 7 is either a Gear Fit 2 or a 256GB microSD card. For those that didn't know, Galaxy Note 7 provides support for an expandable storage slot and you will have plenty of it should you decide to get the storage card for free. Unfortunately, that does not mean that you will receive the free item immediately; the item carrying no charge will only be delivered to your doorstep along with the Galaxy Note 7. That does sound bitter to us, but in the end, all that is required is your patience.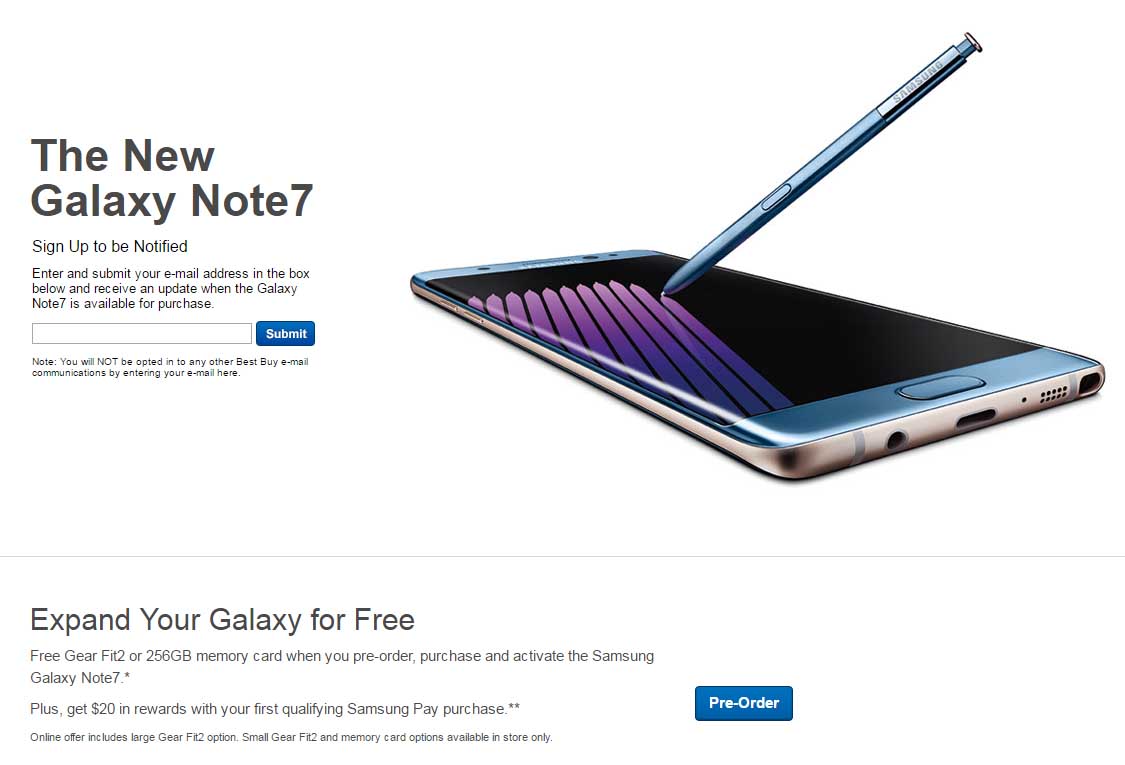 Verizon
Verizon preorders for Galaxy Note 7 can only be made online. However, you will be pleased to know that the carrier is waiving off $20 for its activation fees and is also offering you up to $300 to trade-in your previous smartphone for the 5.7-inch phablet. Here are the prices that you will have to pay in order to grab yourself a Galaxy Note 7:
Monthly payment plan: $36 per month for a total of 24 months
Full retail payment of $864
According to your budget, you should select the appropriate offer. It is advised that should you choose the monthly payment option, since you will not be asked to pay a single dime above $864. However, it always becomes a hassle going for monthly payments, especially when you have other important expenses to worry about as well.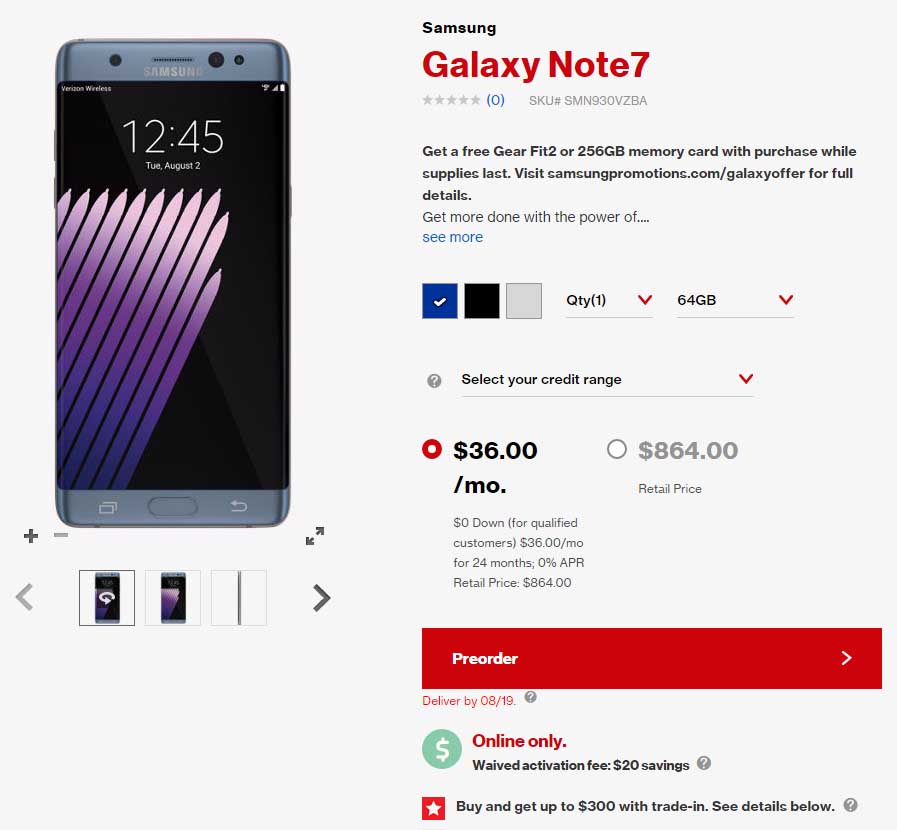 If the process is far too difficult for you, then you can always preorder the smartphone from Best Buy. You will still get the free item when the handset is shipped off to your doorstep, and what's more is that the phablet carries a slightly smaller price tag at the online retailer than what's Verizon is asking on its website, and those details have been listed below:
Monthly payment plan: $36 per month for a total of 24 months
Full retail payment of $849.99 (unlocked)
$349.99 for a 2-year contract
T-Mobile
On T-Mobile's official website, you can choose to place your order online, by phone call or visit the nearest T-Mobile retail outlet. Galaxy Note 7 will be available in the blue coral, black onyx and silver titanium color models and will either cost $850, or $70 down payment and $32.50 for a period of 24 months (this will make the grand total come to $850 as well). T-Mobile is not available on Best Buy, but you will be entitled to receive either a full year worth of Netflix, a Samsung Gear Fit 2, or a 256GB microSD card. We'd honestly settle for the storage card since it would fulfill our purpose to a huge extent.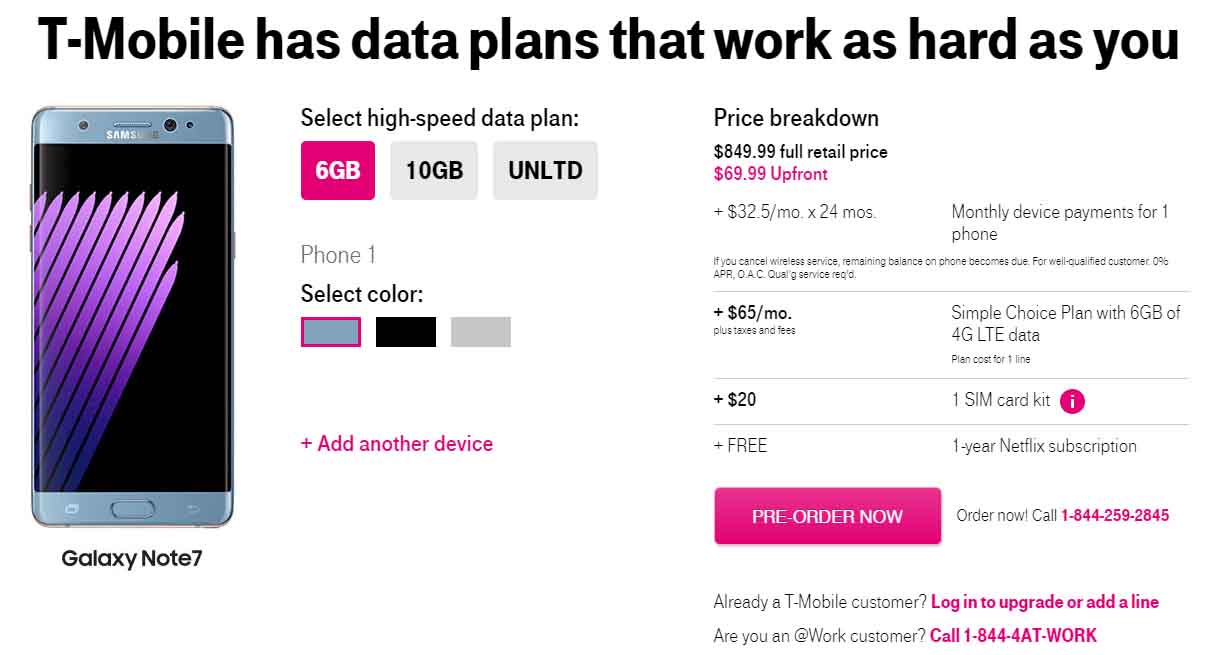 AT&T
AT&T is also taking preorders for Galaxy Note 7 on its website. The smartphone will also be available here in the blue coral, black onyx and silver titanium color models and you will have two monthly payment plans to choose from:
$29.34 per month for 30 months with AT&T Next (grand total comes to $880.2)
$36.67 for 24 months with AT&T Next Every Year (grand total comes to $880.2)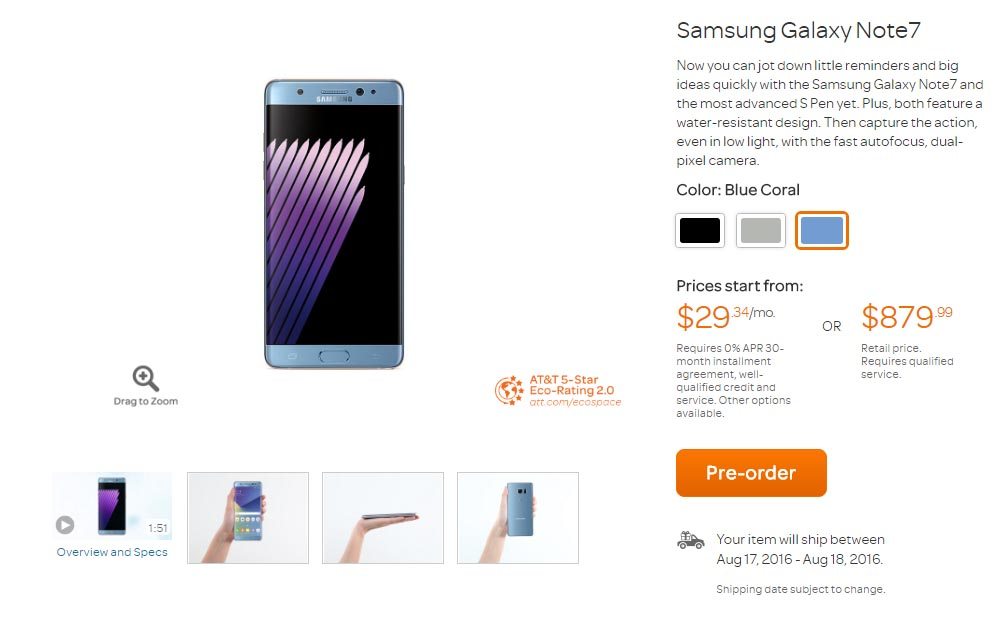 AT&T is also giving away freebies in the form of a Gear S2 and a Galaxy Tab E for $1 with a two-year contract. If you end up preordering Galaxy Note 7 from AT&T, you will also receive a second Galaxy smartphone with AT&T Next to receive $695 in bill credits over a period of 30 months. If you're not interested in placing a preorder from the official website, then you can always visit Best Buy to complete the order process. Unfortunately, this deal will only get you a free Samsung Gear Fit 2. If you want a free microSD card or a year's worth of Netflix, you're going to have to preorder the smartphone from the other carriers.
Sprint
If you place an order on Sprint's website, you will get a choice of a free Gear Fit 2 or a 256GB memory card. Those who sign up for Samsung Pay will also get a $20 Samsung Rewards Visa card with their first purchase. As for the pricing, the Galaxy Note 7 will cost $0.00 down with 24 monthly installments of $35.42. Alternatively, a $349.99 with a mail-in rebate and a 2-year contract can also be availed, or you can choose to pay the full retail price, which is $849.99 at this point.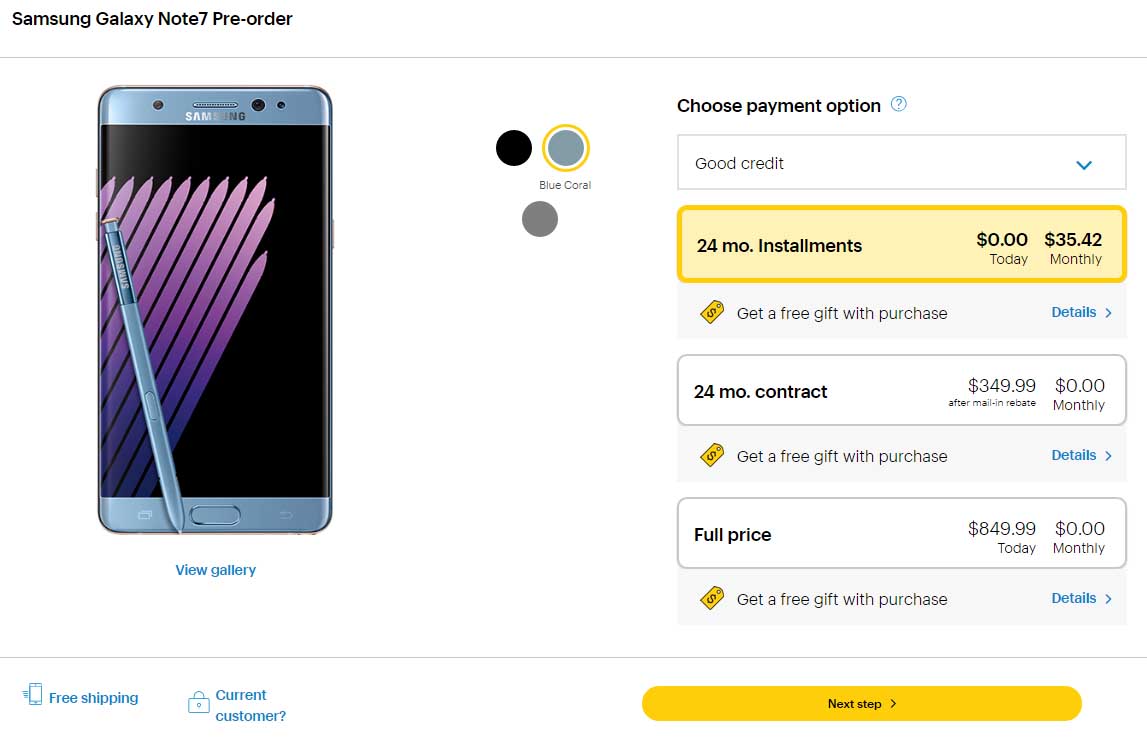 How can you successfully get a free Samsung accessory without running into any issues?
With a variety of freebies being offered from different carriers, you'd probably get all excited and forget to check on your order. However, it is imperative that you keep track of your order because the last thing you want is for your free accessory offer to get void thanks to a few simple steps that you did not follow. Here are a few pointers to keep in mind that will allow you to successfully get a free Gear Fit 2, a microSD card, and others as well.
Either visit the Samsung Promotions website, or you can choose to download the Samsung Pay app from the Google Play Store.
Choose your carrier from the first dropdown menu that you see before you.
Select where you purchased your phone from and keep in mind that you need to fill out all the necessary details.
You will also need to provide proof of purchase, such as a receipt, in order to redeem the offer.
Now that we have told you how and where to place your preorder from, it's time that you told us where you're going to place it from. While you're at it we also want you to tell us which free accessory you want to acquire and why. We will be awaiting your responses in the comment section below.