The latest rumor about Samsung's upcoming Galaxy Note 7 (or Note7) suggested that there will be just one variant of the device and it will come with a curved screen. However, a new leak today suggests that Samsung might decide to play it safe and might release a Galaxy Note 7 and a Galaxy Note 7 Edge variant as well.

Tipster @NextGalaxyS has posted a new image on Twitter that shows the Glaaxy Note7 and Note7 Edge logos. Of course, we can't yet say how close these renders will be to the original, official logos, but they do look promising. This directly suggests that a curved-screen Note 7 will be released alongside the regular version, so people can make their choice. The tipster has also posted some Galaxy Note 7 features and specs. Please take these leaks with a pinch of salt as these have not been confirmed officially.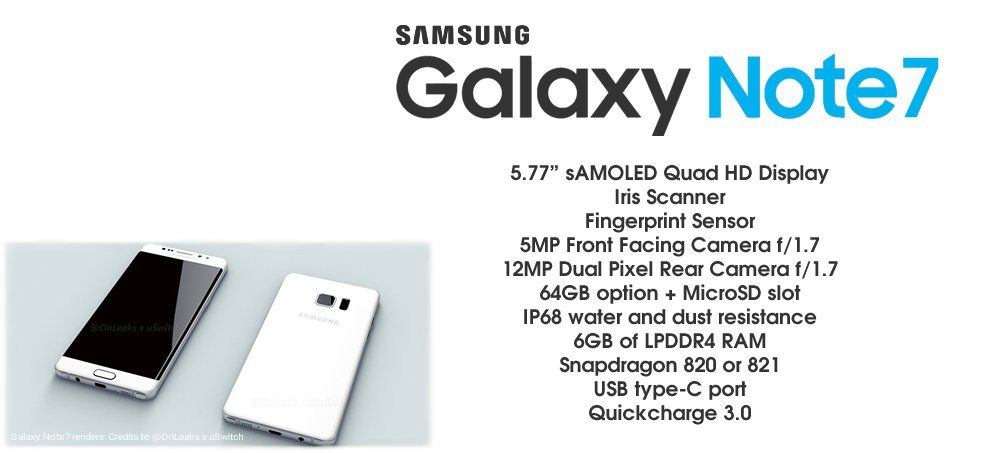 As you can see in the image above, the leaker suggests that the Samsung Galaxy Note7 will come with a 5.77-inch Super AMOLED Quad HD screen. It will be getting an iris scanner, fingerprint scanner, and USB Type-C port and will be IP68 certified for dust and water resistance. It will sport 6GB of LPDDR4 RAM with 64GB internal storage, and a microSD slot is expected too. The phablet will be powered by Snapdragon 821 (or possible Snapdragon 823) and will get a 12MP f/1.7 camera at the back with a 5MP f/1.7 snapper at the front.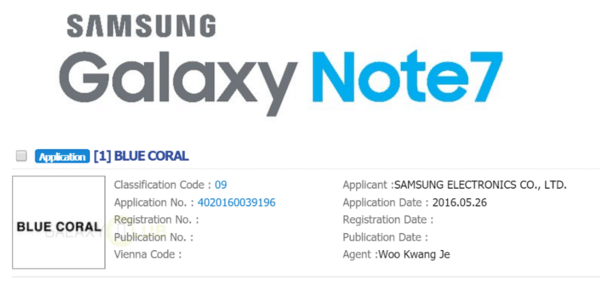 The above screenshot has been published by GalaxyClub.nl, suggesting that the Galaxy Note 7 devices will come in a Blue Coral color option too. The information is given down in a screenshot that is of an application filed by Samsung to copyright the name of that color. We don't yet know how Blue Coral will look like on the Note7, but it should definitely be a premium looking shade.
The Samsung Galaxy Note 7 and Galaxy Note 7 Edge are expected to be unveiled on 2nd August, and the devices might also be made available in Europe this time unlike the Note5.