The Galaxy Note 7 hits headlines again, but this time, the news is not so impressive. Now, the device is attracting bad press again with a story of the device exploding when charging.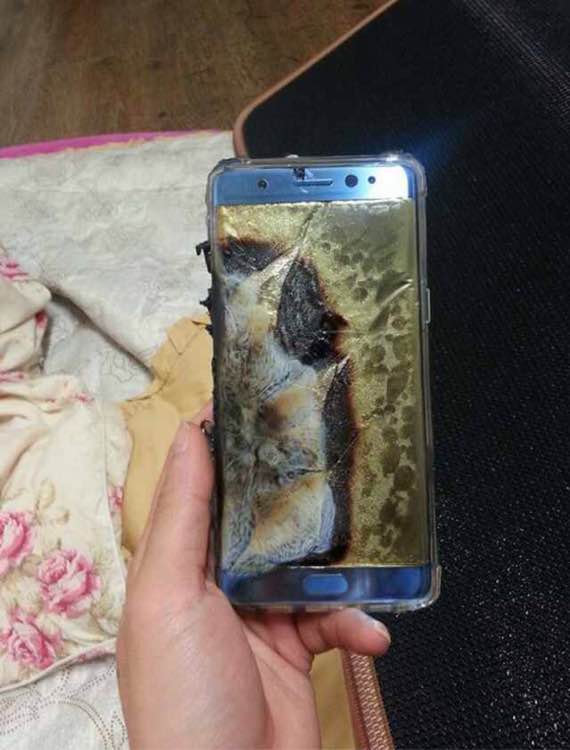 A Korean woman posted photos of a burnt Galaxy Note 7, followed by the text "My boyfriend's Galaxy Note 7 exploded when charging overnight" on Baidu. You can view the photos of the burnt device at bottom of this article.
The Galaxy Note 7 was launched just a few weeks ago. News of the device exploding is not what we expect from a device that is so young in the market. For now the conditions surrounding the explosion of the phone are not clear. It appears the owner of the device used a USB-C converter as opposed to the original Samsung wall charger that came with the device. Samsung may rule the warranty void for using the unauthorized charger.
Until more details about the explosion arise, we can only hope it was a problem with that particular device, not all Note 7s out there. If you own the device, exclusively use the official charger and avoid putting the phone in situations where it will heat up when charging. Never let a phone come into contact with water when charging.
Meanwhile, Samsung earlier reported that the demand for the device is too much it is almost unable to contain it. In fact, the company had to delay the launch of the device in some markets.
If you are planning to purchase the device, you may choose to isolate this story in favor of the specs. The device sports a 5.7-inch QHD dual edge Super AMOLED display, Snapdragon 820/Exynos 8890 chipset, 4GB RAM and 64GB ROM. A 3,500mAh battery powers the device which is dust and water resistant. It packs a 12MP Dual Pixel rear camera and unlocks via an iris scanner.