The Samsung Galaxy J2 which has been benchmarked at GFXBench early this month has now been benchmarked again. Looking at both the benchmark results we could see a striking difference in the screen size being mentioned. The current benchmark shows the screen size as 5.7inch which we are certain that it is just a typo. However, the correct screen size should be one inch lesser than this making it 4.7inch which was mentioned in earlier benchmark also.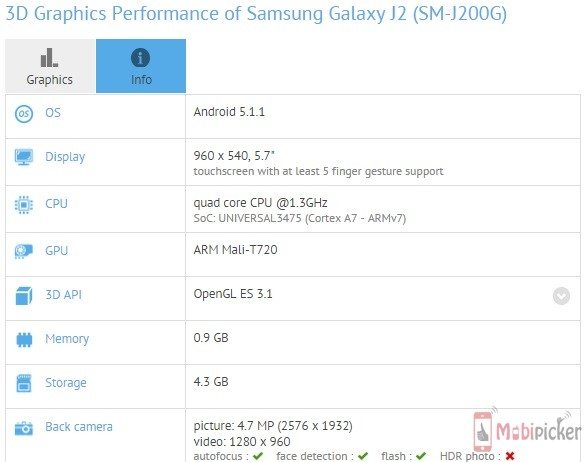 If we recall the Zauba listing which we seen June 30 has also mentioned the screen size for J2 as 4.7inch. One more fact in favour or 4.7inch is that Galaxy J1 and Galaxy J5 screen sizes. Galaxy J1 sports a 4.3 inch screen whereas J5 will feature 5inch. Going by the logical calculation J2 screen size should lie between these two numbers.
Samsung Galaxy J2 will be powered by the Exynos 3475 SoC under the hood, with a quad-core 1.3GHz CPU and the Mali-T720 GPU.  With 1GB of RAM, and 8GB of onboard storage, it has a 5MP rear camera, with a 2MP selfie shooter for the selfie lovers and video chat users. Galaxy J2 will run on android 5.1.1 which will be pre-installed.
As Samsung Galaxy J2 has made multiple visits to benchmark sites, we expect it to release sooner than the expected.