Samsung Galaxy Golden 3 (SM-W2016), which was spotted at GFXBench database last month, has now been certified by the TENAA in China. Sadly, there are no images listed in the TENAA database, but we have got an idea of the key specifications at least.
According to the TENAA listing, the phone comes with a foldable screen having 3.9-inch internal and external displays with 768×1280 pixel resolution, while GFXBench records it at 4.6-inches. Powered by an octa-core 2.1GHz processor, it features 3GB of RAM and 64GB onboard storage (non-expandable). TENAA database doesn't reveal the chipset type, but according to GFXBench, it gets a high-end Exynos 7 SoC and Mali-T760MP8 GPU.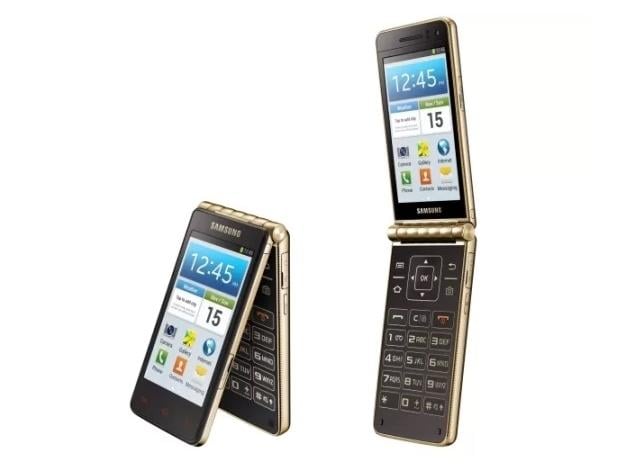 Running on Android 5.1.1 Lollipop out-of-the-box, the Galaxy Golden 3 comes with a 16-megapixel primary camera and a 5-megapixel front-facing shooter. It measures 120.4 × 61 × 15.1mm and weighs 204g. The flip smartphone supports network frequencies of 900MHz, 1800MHz, 850MHz, 1900MHz, 800MHz, Band 41 (2555-2575 MHZ, 2575-2635 MHZ, 2635-2655 MHZ), Band 3.
It is worth mentioning that there is no official confirmation on the name of the device. It is merely speculated by the fact that the SM-W2014 is the Galaxy Golden flip smartphone in the South Korea, and the SM-W2015 (Galaxy Golden 2) was leaked on the same website (TENAA) a year ago, but we never heard of it again. Based on these two code-names, it is highly anticipated that the leaked SM-W2016 will be released as the Galaxy Golden 3.
It is also important to note that the SM-W2015 was certified by the TENAA but never got a release. So take the foldable smartphone (SM-W2016) with a pinch of salt until we hear an official confirmation by the Samsung.