When it comes to custom GPUs, GALAX has been leading with its popular Hall of Fame Edition. The performance of HOF graphic cards has already been impressive and now there's a new member in the family – GeForce GTX 1080 Ti. The prolific graphic card brings in monstrous capabilities and promises a major performance upgrade for dedicated gamers. Yes, it follows the same colour strategy, but there's a lot more on offer!
GALAX GeForce GTX 1080 Ti Hall of Fame Design
Just like all other HOF cards, GALAX GeForce GTX 1080 Ti also features a fully custom design built specifically for high-end gamers. It comes with a highly powerful PCB and deploys NVIDIA's fastest gaming chip, the GP102. Having that said, it also worthy to note that GALAX GeForce GTX 1080 Ti HOF features a dual slot, triple fan design that comes with the extended PCB layout, allowing for premium components to be used on the PCB.
The middle fan of the graphic card has the HOF logo on its outskirts that emit a white LED light which is being called LUMIN X. White has been GALAX's favourite for HOF cards and the new GTX 1080 Ti is also no exception to this trend. Along with the PCB, the triple fan cooler of this card, which is said to provide ample cooling potential, has also been kept in white.
Triple Fan Heatsink and PCB Detailed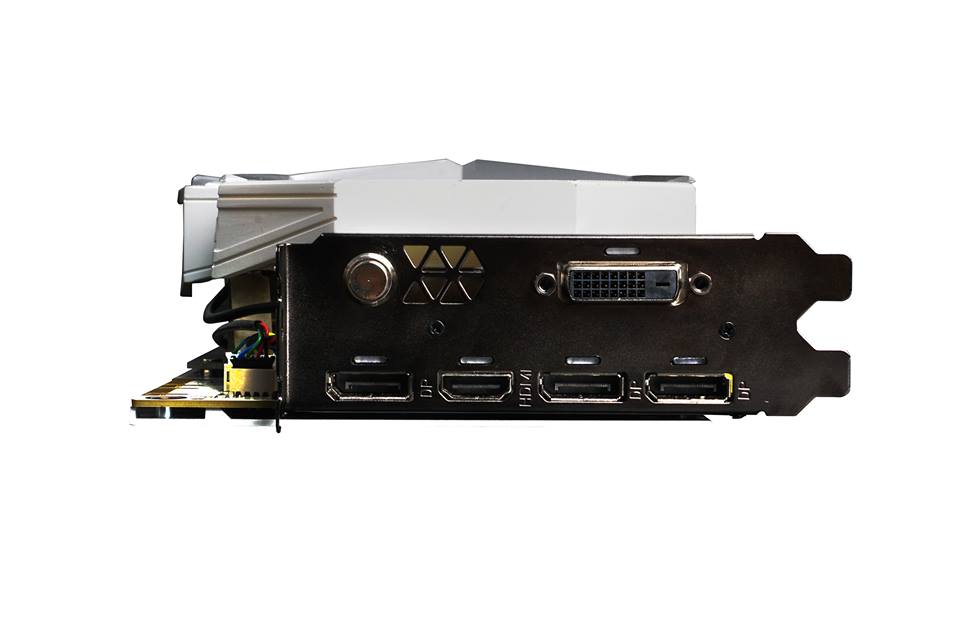 But, things get far more interesting when the triple fan heatsink on GeForce GTX 1080 Ti comes into play. It ensures instant cooling by blowing air towards a large heatsink. This so-called "sink" is made up of two dense aluminium fin array packed blocks which are interconnected with thick heat pipes made out of copper. As for display connectivity, the card boasts support for DVI, HDMI, and three Display Ports. There's also a rotating knob on the I/O bracket which allows one to switch between different BIOS modes.
The PCB on the card packs a 16+3 (GPU+VRAM) Phase power design. The VRMs are cooled by the heatsink while the rest of the PCB is cooled by the fans. There are multiple voltage reading points on the back of the PCB along with 3 connectors for the fans and 2 connectors for the LED ring and crown lighting.
GALAX GeForce GTX 1080 Ti also comes with three 8-pin power connectors, which usually indicate support for extreme overclocking. Apart from that, we guess it might also work if only two connectors are plugged in. As of now, there's no word on the exact clock speed of this card, but the juicy power design (16+3 phases) clearly suggests that this model will ship with a massive overclock from the factory.
As most GALAX cards came with substantial factory overclocks, we expect GeForce GTX 1080 Ti HOF to go higher than others. Chances are, we might see it running at 15xxMHz/16xxMHz Core – something which has already been deployed by the custom GTX 1080 Ti.
We still don't know when this card will hit the shelves, but one thing's for sure, it would be a whole lot expensive than other GALAX cards!