G-SYNC HDR is announced by NVidia, bringing High Dynamic Range (HDR) to the G-SYNC monitor technology. NVidia stated that G-SYNC HDR displays were created alongside AU Optronics with the purpose of bringing the ultimate gaming experience. These monitors will feature virtually non-existent input latency, unlike HDR TVs are known for adding significant input latency while playing games in HDR.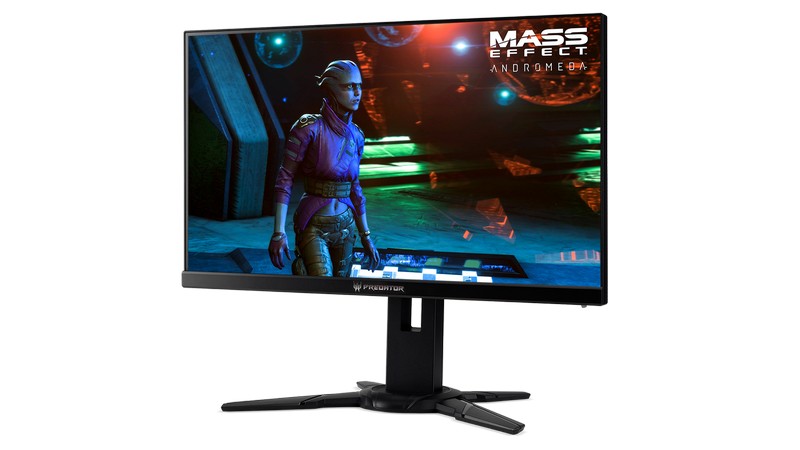 The same day the new technology got announced, Asus stepped up, revealing the first two G-SYNC HDR-Capable Monitors, Asus ROG Swift PG27UQ, and the Acer Predator XB272-HDR. Both monitors should launch during Q2, 2017, according to Asus. Both monitors feature Quantum Dot display technology as well as the full array of 384-zone backlights. The resolution is 4K and the refresh rate is 144 Hz.
Asus issued a press release (via) detailing new features.
The backlight illuminates the screen, and with 384 individually-controllable LED backlight zones, light will only be shown when and where it is required, enabling G-SYNC HDR displays to simultaneously produce bright bold colors and deep blacks, reminiscent of the very best plasma displays. Monitors with fewer backlight zones, edge-lit backlight zones, or with only a single global backlight are incapable of matching the contrast and image quality of the new 4K G-SYNC HDR monitors, and with 384 controllable zones we have unparalleled control over the picture, producing the best images you've ever seen on an LCD gaming display.
To further enhance the monitor we have applied a Quantum Dot Enhancement Film (QDEF), to create deep saturated reds and greens out of the blue light produced by the 384 controllable LED backlight zones. First used on high-end HDR televisions, QDEF film is coated with nano-sized dots that emit light of a very specific color depending on the size of the dot, producing bright, saturated and vibrant colors through the whole spectrum, from deep greens and reds, to intense blues. This enables a far larger set of colors to be displayed, producing pictures that more accurately reflect the scenes and colors you see in real life. The end result is a color space 25% larger than the traditional sRGB color space, close to the DCI-P3 standard used in the best digital cinemas.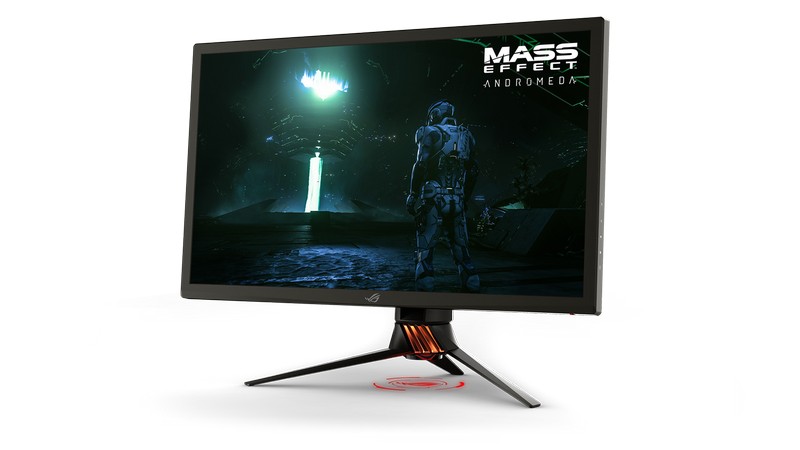 The main problem, at least for now, is that there's only one PC game with HDR support, Shadow Warrior 2. EA announced that the upcoming Mass Effect: Andromeda will ship with HDR support, but for now the market for the HDR PC monitors is practically nonexistent. Asus revealed the price of one monitor; the PG27UQ will retail for $1199. Other model's price is unknown at the moment. Below you can find full specs of the two latest monitors from Asus.
World's first 4K (3840 x 2160), 144Hz, G-SYNC HDR gaming monitors
2 models:  Asus ROG Swift PG27UQ and Acer Predator XB272-HDR available in Q2.
Monitors certified by NVIDIA and fully integrated into GeForce Platform for the best end-to-end gaming experience
Hallmark G-SYNC variable refresh rate technology for tear-free, smooth and responsive gameplay
Unrivaled HDR image quality with vivid intensity, color and contrast
1000 nits peak brightness
384 zone full-array dynamically controlled direct LED backlight
DCI-P3 cinema grade color gamut with Quantum Dot technology
DP 1.4 and HDMI 2.0 inputs
HDR10 support
Virtually zero input latency from pixel arrival at monitor to photon emission from LCD (HDR TVs introduce 22-41ms latency).