We have good news and bad news. We'll start with the bad news first. Friday The 13th Game has been delayed to 2017. Sad right? Well, now for the good news. Friday The 13th Game Beta Release Date confirmed. The game will also add notable series character Tommy Jarvis as a protagonist in a new single-player campaign. Players will also have a chance to hunt teenagers on their own. These teenagers will be controlled by offline AI Bots.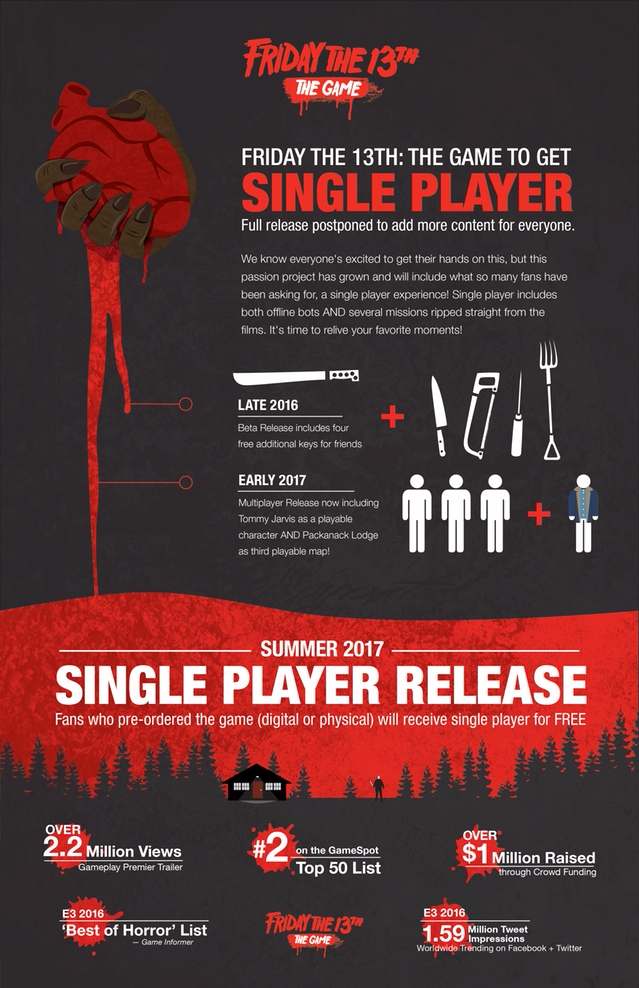 Friday The 13th Game Beta Release Date Confirmed
"Later this Fall we will be releasing the Beta for Friday the 13th: The Game! Every KS backer that backed the game will be getting a beta key. They will also get 4 additional Beta keys to give out to friends. Kickstarter Backers will get access to the Beta earlier than anyone else.

All pre-orders that have been made to date and any that will happen from here on out until the Beta will also get 4 additional Beta keys for their friends.

While the addition of Single Player and AI Bots means a bigger game for all, they also mean a delay from a Fall 2016 release window to a new launch window scheduled for Spring 2017. Gun Media and IllFonic will use the time to lay down the groundwork for the single player experience while continuing development of the multiplayer portion with additional content that we're about to talk about below.

We're also announcing that Tommy Jarvis will return to Camp Crystal Lake as a playable character! As you all likely know, Tommy Jarvis is featured in multiple films in the franchise and is one of Jason's main protagonists and he'll return ready for battle.

We have a big new map to announce too! Today we're revealing that Packanack Lodge is our 3rd playable map that we'll be offering in the multiplayer game. Fans can return to the scenes of Friday the 13th: Part 2 and play out their own horror movies in legendary film locations."
Let us know your thoughts about Friday The 13th Game Beta Release Date.