Android devices come with significant storage space. iOS devices do too, but you have to pay a lot more than you would normally do for Android devices. And as you continue to use iOS devices, data tends to get accumulated in the form of cache, junks, temporary files, corrupted files and other stuff. Those hidden files eat up lots of space, and also are the main culprit for slowing down your iOS. If you are looking for the solution to free up space and boost speed for your iPhone or iPad, iMyfone Umate Pro is a great iPhone cleaner for you.
iMyfone Umate Pro, which is basically a Windows and Mac app that helps you free up storage on your iPhone by thoroughly cleaning junks, temporary files, cache, losslessly compressing photos, managing apps and selectively deleting large files. Everything will be done automatically by this tool instead of manually complicated iPhone settings or deletion.
Check Also: How to delete documents and data on iPhone
Another great point is that this software can erase existing or deleted data on your iPhone or iPad permanently to avoid privacy leak. Imagine, if you want to sell your old iPhone to get the new iPhone X, how to erase photos, videos, bank account, browser history, messages, contacts, etc? A factory reset is not enough, as many iOS data recovery software can well retrieve the erased data effortlessly. In this case, iMyfone Umate Pro can be your best iOS eraser to wipe off all your privacy on iOS with no possibility to restore. iMyfone claims that no third-party can recover the erased data.
How to free up space on iPhone
As you may see there are 4 tabs on the software interface, you can click the "1-Click Free Up Space" button, the software will scan your iDevice and list out how much space can be reclaimed for your iPhone or iPad. Click the "Clean" button on each category to release huge storage.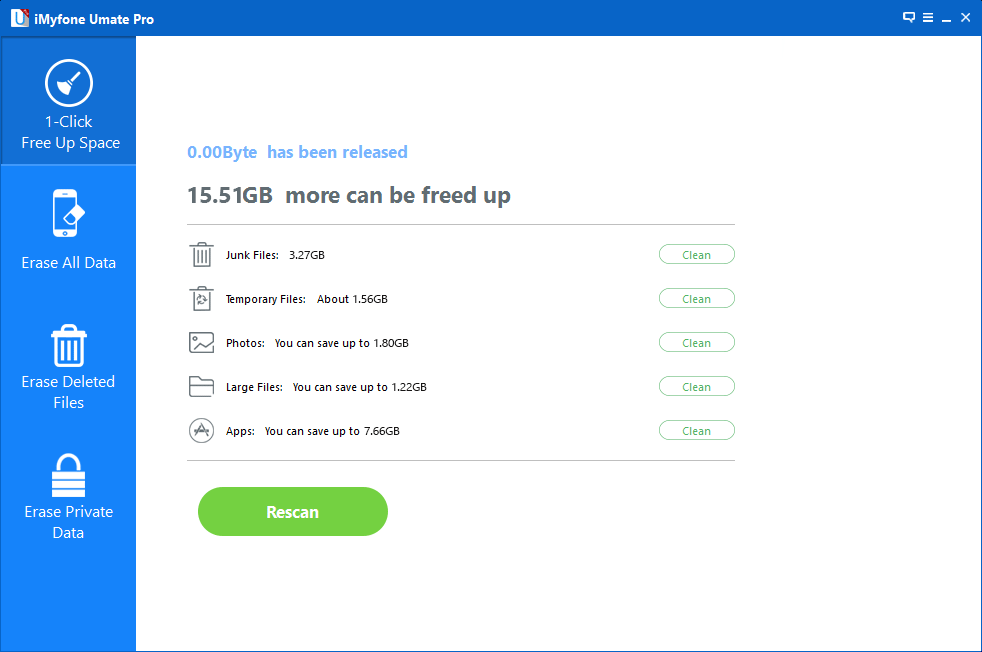 1. Clean up junk files
iMyfone Umate Pro helps you wipe off all kinds of junk files. It helps you remove app caches, cookies, temp files and crash logs permanently.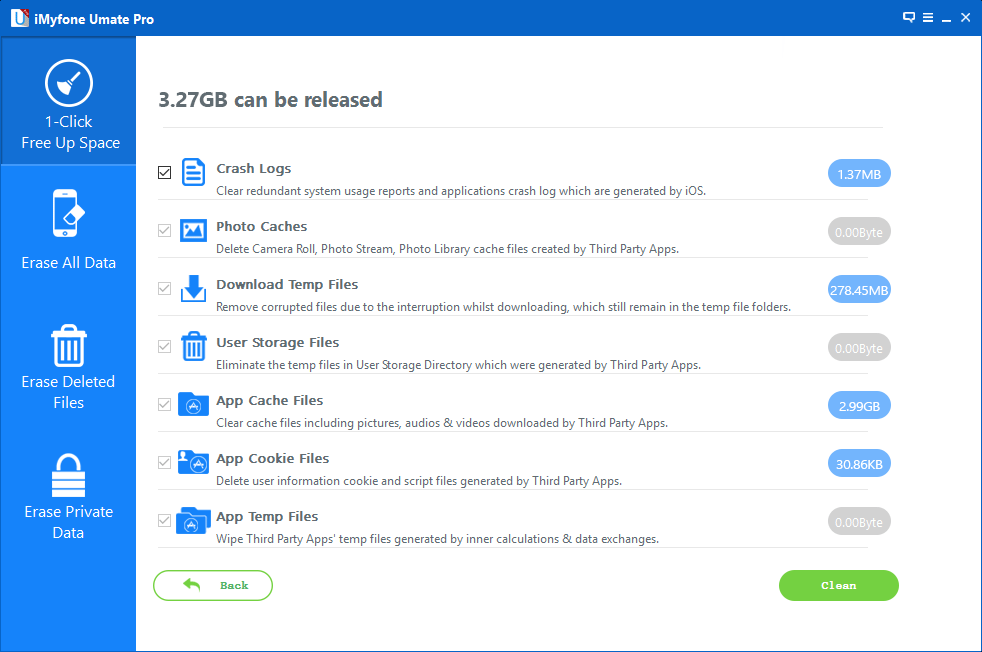 2. Clear Temporary Files
Every time you open and close an app on your iOS device, they leave footprints in the form of temporary files. Over time, these get piled up and can use up considerable storage space. iMyfone Umate Pro helps you get rid of these temp files. It also clears invisible temporary hidden files in each app.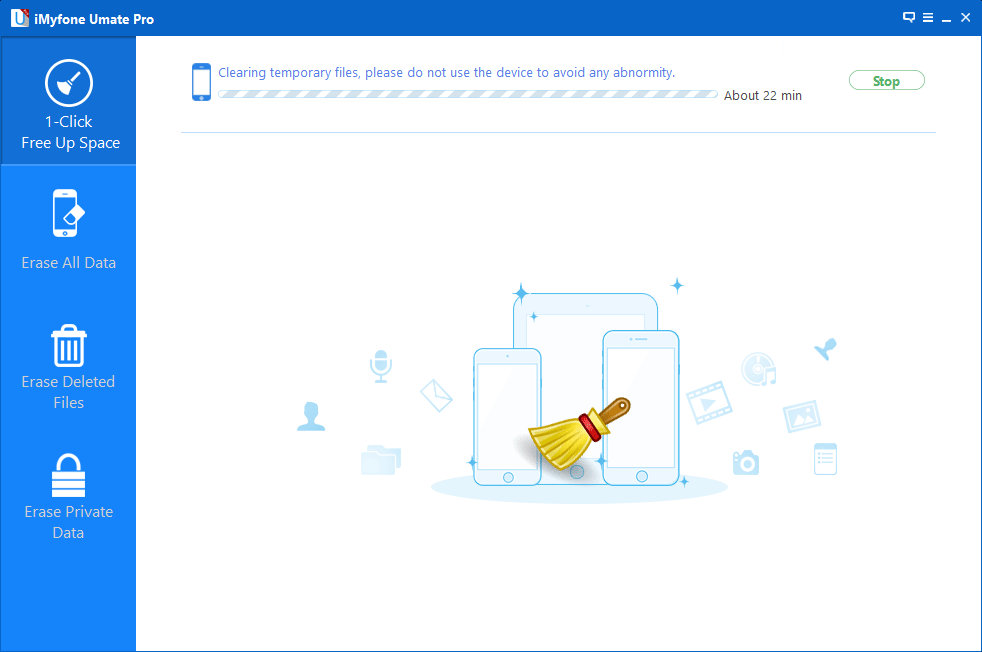 3. Remove Unused Apps & Delete large files
With iMyfone Umate Pro, you can quickly scan and list apps to see the space they occupy. You can then selectively uninstall the apps by just a click.
The iPhone cleaner will scan your iPhone and find all the videos over 5MB. You can select to delete those files.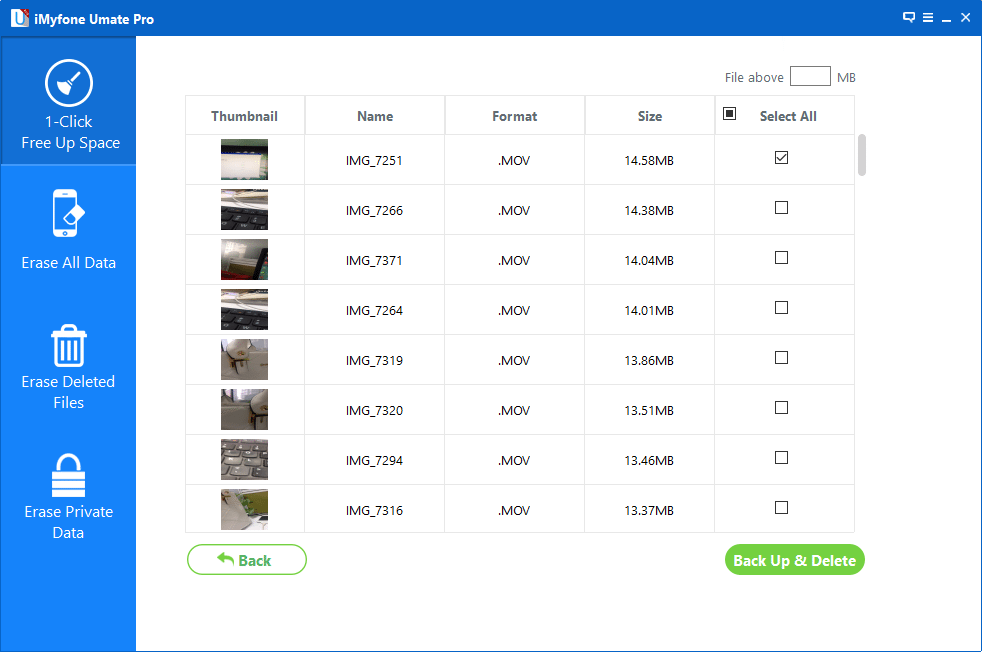 4. Compress Photos Losslessly
The photo compression won't ruin any photos and can release up to 75% of camera photos' space on your iOS device. This function impresses me a lot, as I can use it to compress hundreds of photos on my iPhone to save massive storage for extra use. The compressed photos truly have no quality loss! You can also back up your original photos on the computer before compressing.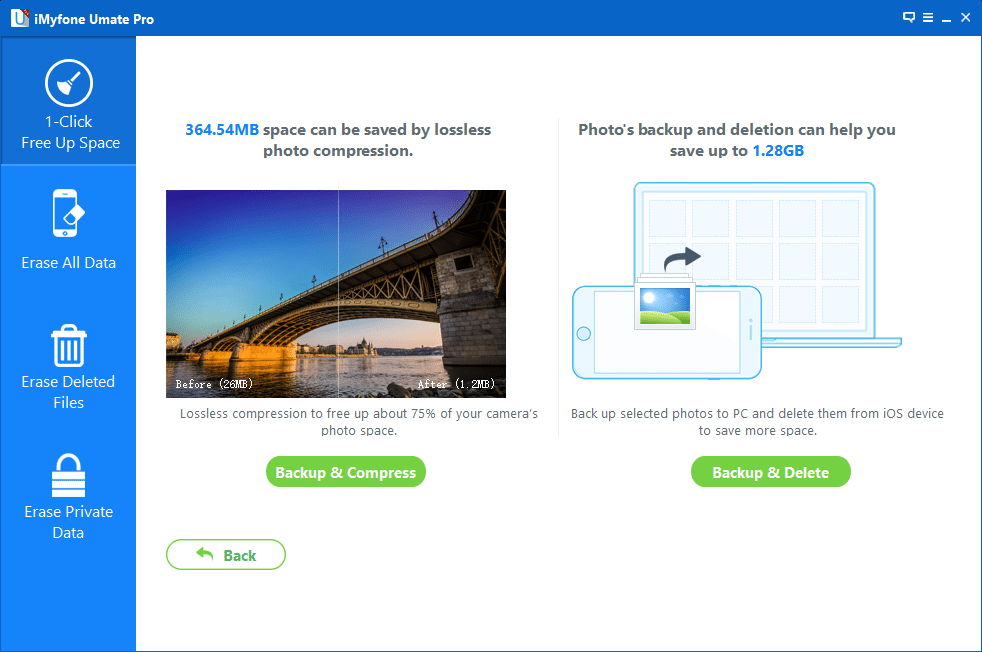 How to Erase iPhone Data Permanently
When you wish to sell your iOS device, you would want to erase all sensitive and private info so that it doesn't get into wrong hands. iMyfone Umate Pro helps you delete all data securely and no third-party application can ever recover the data. I will take how to erase deleted data on your iOS device as an example.
Erase Deleted Files
If you want to ensure previously deleted data is unrecoverable try this option.
Step 1. Connect your iOS device to the computer.
Step 2. Under Erase Deleted Files tab, click "Scan" and then iMyfone Umate Pro will start to scan the device and list all of the deleted files. This process may take several minutes.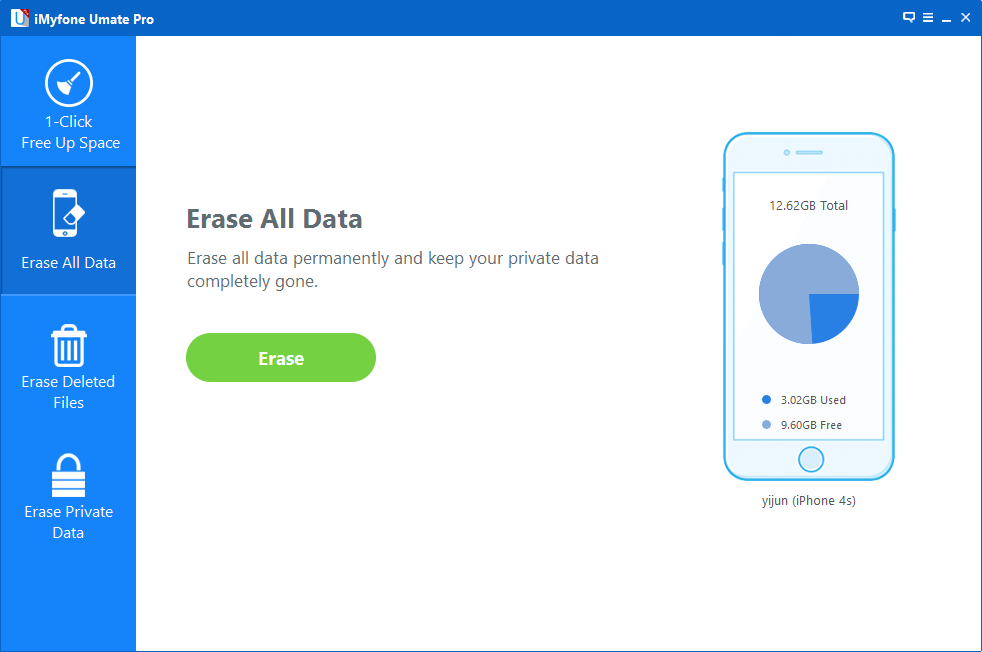 Step 3. After the scanning process is finished, iMyfone Umate Pro will list all the deleted files. Select the files you want to delete.  Then Click "Erase" button to erase the selected files.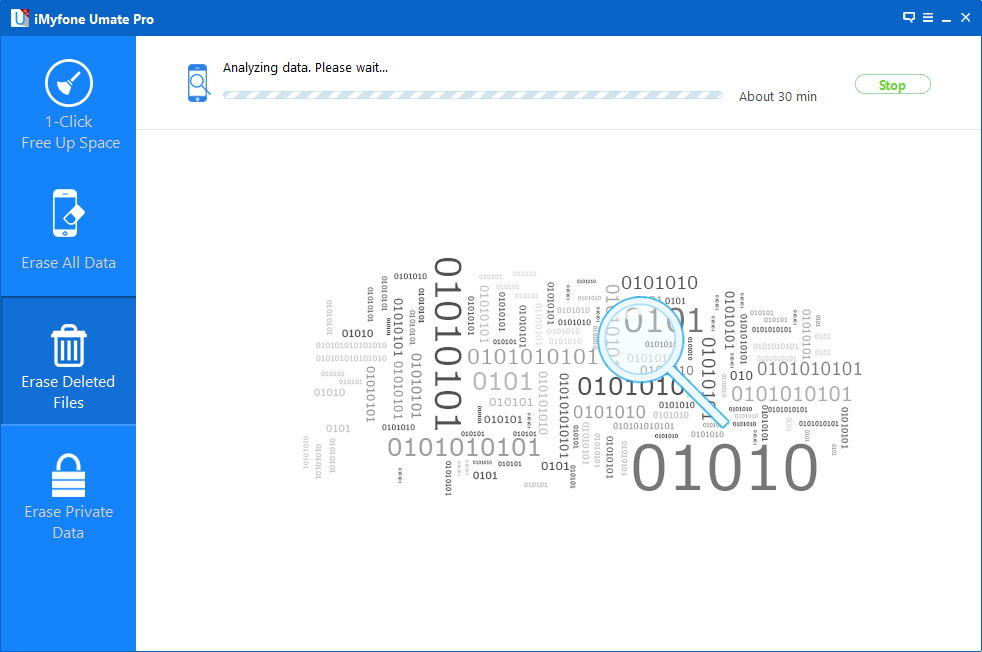 The Bottom line
iMyfone Umate Pro is the ideal solution for cleaning up your iOS device and erasing all personal data. Simple and user-friendly, this solution can provide the best of both worlds – security as well as ease-of-use. When you can't upgrade to iOS 11, or you can't save more photos/videos/apps on your iPhone just because of insufficient storage, or When you want to protect your personal privacy, iMyfone Umate Pro is the best tool for you.