If you are frustrated by seeing This video is not available in your country error while watching videos on YouTube, you are at the right place. We will show you how you can fix this error by yourself.
Fix: This Video is not available in your country
With over a billion visitors and trillion views per day, YouTube stands as the video king. YouTube has millions of videos, but many aren't available to watch outside of the region they were uploaded in. However, you need not worry as the "This video is not available in your country" is easily fixable. Check out our below step-by-step guide to learn how to fix this error in a few minutes.
1. Fix with Hola Extension
Hola is an extension which changes IP location for free, so that you can watch the videos which are not available in your country.
You can download Hola Extension for Chrome here, and for Firefox, here. Once you have installed the extension, follow the below steps.
Step 1. Open the YouTube video URL which is not available for your country.
Step 2. Click on Hola Extension icon, located above Bookmarks bar (See below snapshot).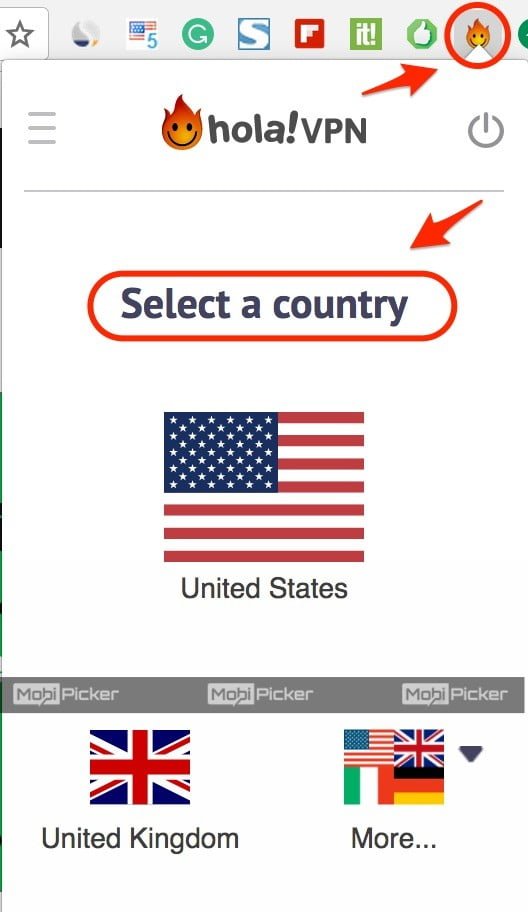 Step 3. You will see different country flags. Select one and reload the page.
That's all folks. This simple integration of Hola extension in your Google Chrome or Firefox should allow you to watch restricted videos for your country.
Fix with ProxMate and Proxies
Proxies hide your real IP or identity on the internet. You can use the chrome extension named Proxmate. It is available for both Google Chrome and Mozilla Firefox. By installing this extension, you can get rid of the frustrating issue.
Alternatively, you can use free proxy sites such as these to access videos –
ProxFree (proxfree.com)
UnblockYouTube (unblockyoutube.co.uk)
Zalmos (zalmos.com)
Disclaimer: This article is for educational purpose only. MobiPicker and its authors are not responsible for any legal issues that may arise due to using VPNs/proxies.
Download the video using Software
If the video is not available in your country, you can download the video itself with a few clicks by using software like KeepVid Pro. Once you have downloaded the videos, simply play them offline on your PC using your default video player. If your default video player doesn't work properly, check out our list of best video players and install on your PC.
Note: It may be noted that YouTube's policy doesn't permit you to download videos on your PC. Hence, we suggest you take prior permission from the video owner and then only proceed for download.
Use VPN to Watch Videos
VPN stands for Virtual Private Network and is one of best ways to fix "this video is not available in your country". VPNs such as FinchVPN support up to 3GB usage per month. Change the location of VPN from settings according to video location. Then switch your location using VPN. Now you are ready to watch your favourite videos again without having to go through the error.
You can check out some of the best VPNs to try out. Once you start using VPN, we are sure you won't face the error again.
Replace Video URL with /v/
In most of the cases, a simple fix could play the restricted videos. In the URL of the video which does not load due to the subject error, just replace /watch?v=  with  /v/ 
Pro Tip: If you spend a lot of time watching YouTube videos in the night, enable YouTube dark mode for better user experience. Needless to say, it is good for your eyes too.
Conclusion

We hope you are now aware of several ways to fix the annoying "this video is not available in your country" error. These methods have been tried-and-tested and are known to work. We will keep you updated about newer methods!
Fix Also: YouTube Error 400