5. Combat and Weapons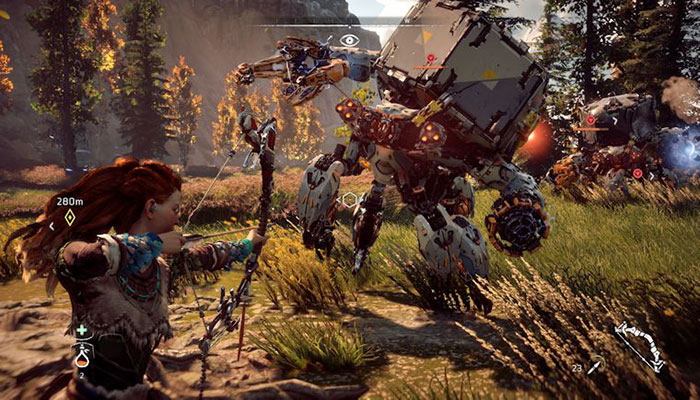 Combat in Horizon Zero Dawn has quite a different feel if you compare it with other traditional Action-RPGs. It's not always an objective in the game. If you don't like it, you should never get into it after a certain point in the game. On the other hand, if you are a Combat lover, you can keep on prying on your robotic rivals. Horizon Zero Dawn offers a lot of ground for the Combat part of the game. You can descend down to the robotic dungeons and unleash your wrath upon the enemies. And, if you like, you can simply disable them by acquiring the override codes. Override codes help you with hacking into the mechanical beasts and disabling them.
This way you'll have less damage done to yourself and more to the enemies. As you'll spend a lot of time fighting against both Human and Machine enemies, you'll have plenty of weapons in the game. These weapons are divided into various categories that help you select best suitable ones for you. Following is the list of Weapons that you can choose from and line-up a perfect loadout as well. These weapons include Rattler, Sling, Ropecaster, Lance, Hunter's Bow, etc. Each of these weapons has its own specialty that you can use in a specific scenario.
Check Also: Best GBA games and FPS games