HTC, a known brand for mobile phones has had an excellent repute. But the one thing its users have been annoyed about is its untimely delivery of latest Android updates. With Android 6.0 Marshmallow to be out soon, people with an HTC handset are bewildered whether their device will receive the latest OS any soon.
But for the satisfaction of many HTC customers, a known developer who is better known as @LlabTooFer has tipped about the devices that would be getting the Marshmallow 6.0 update. Just recently he tweeted about the range of HTC phones to receive the OS update as well as the HTC's proprietary Sense 7 user interface.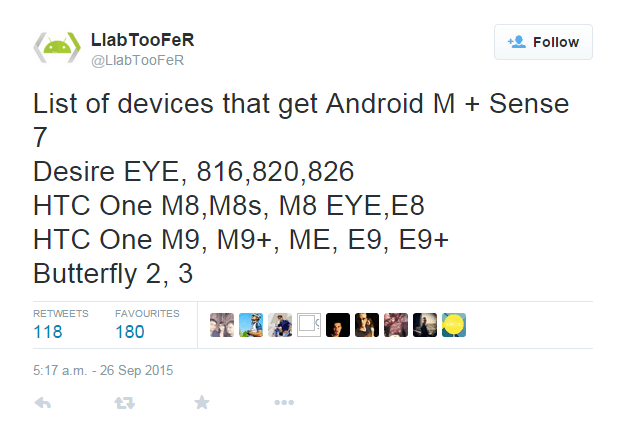 There is no surprise in the fact that HTC's flagship devices for 2015 would definitely be upgraded to Marshmallow. That includes the One M9 and the One M9+ and the company has officially confirmed about these phones as well.
Among the other premier phones lies the HTC One M8, the company's 2014 flagship, and some of its derivatives too. But the 2013 HTC One M7 is missing from the list.
The other range of HTC devices to get the update, as mentioned by the tipster includes, Desire Eye, Desire 816, Desire 820, Desire 826, One M8s, One M8 Eye, One E8, One ME, One E9+, Butterfly 2 and Butterfly 3. @LlabTooFer says that this is a preliminary list of phones that will receive the OS update, and the devices with a limited storage might not receive it at all, such as Desire 816. The Desire 820, a good phone from HTC also needs to be mentioned as it is still waiting for its Android Lollipop 5.0 update, but it's in the list of devices to get the Marshmallow update. Now that's unique.
Well as a matter of fact let's not make this list as final as the manufacturer might not stay up to its word and this information also comes from an unofficial source.
Till the time being let's just feel happy if our device is listed there.