China-based smartphone manufacturer OUKITEL is starting the Global First Launch for the U16 Max cell phone, the super big 6-inch smartphone with 4000mAh battery and 3GB RAM with 32GB ROM. From March 28 until March 30th, OUKITEL, in association with Aliexpress, is conducting the Global First Launch of the stunning mid-range smartphone U16 Max. As the first 6-inch screen mobile phone, it looks like OUKITEL has put great efforts in RnD to bring out the U16 MAX smartphone for amazing user experience.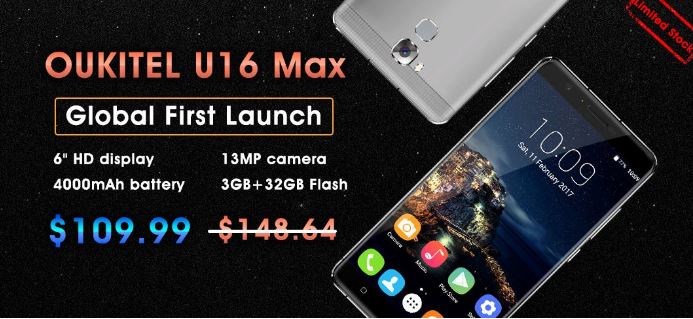 Gorgeous big 6-inch screen and 13MP camera
What's stands out with the U16 Max is obviously the large 6-inch screen. To ensure a highly developed high-end handset, OUKITEL has chosen JDI display with LTPS made by Japan Display Inc. (JDI). The 6.0-inch 1280×720 resolution screen displays all your images, videos and APPs fantastically, while the LTPS technology(Low-Temperature-Poly-Silicon) enhances the transparency of the screen for the best visual outcome in brightness, sharpness and color quality.
As for the camera, the U16 Max will not disappoint the user. Both the primary camera and front facing camera are of real pixels, no interpolation. The 13 MP rear camera carries Micron AR1335 sensor and sports an aperture of f/2.0, single flash, while the 5 MP front camera features OmniVision GC5005 sensor and has an aperture size of f/2.2, increasing the image quality. The face beautify mode, panorama mode and HDR mode deliver good user experience. 5-point multi-touch also offers better touch accuracy and zooming.
Bigger and safer battery
Battery capacity and safety is always a must-consider factor when choosing a smartphone. U16 Max is fueled by a 4000mAh SCUD battery, offering enough energy for your busy life. Additionally, it supports quick charge technology. With the aluminum metal alloy combined with CNC precision, the battery cover is perfectly protected and embellishes the whole sleek appearance of the phone.
Big storage and powerful processor
U16 Max comes with only a few pre-installed APPs, leaving much space for downloading whatever applications you need. The 32GB ROM and expandable 32GB memory enable you to store up to 6000 songs or 7-hour FHD videos, while the 3GB RAM and MTK6753 Octa-core processor supplies enough space and energy for running multi-tasks without lag.
U16 Max comes with Android 7.0 Nougat
Android 7.0 Nougat gets great improvements within the software and main functions such as quick reply, easy to navigate settings, improved voice recognition, and new emojis.  Apart from the new functions offered by Android 7, U16 Max also highlights the Parallel Space from which you can double all your third party apps in this space to log in two accounts. By shrinking the screen dimensions from bottom left to right, you can enter the one hand mode for convenient one hand handling. Other features like Fingerprint touch ID, 3 fingers quick screenshot, gloat gesture, one hand FloatView are part of the amazing user experience U16 Max provides.
U16 Max availability
U16 Max is already in stock with 2 colors, space grey, and champagne gold. From March 28th, it formally starts the biggest flash sale on Aliexpress at a stunning first launch price. During the flash sale, buyers have the chance to flip two cards on the activity page to win OUKITEL smartphones, screen protectors or coins and coupons. The phone is available at a starting price of only $109.99. Visit these sites for more info – Global First Launch | Direct Buying Store