As Pete Hines stated at the beginning of July, Nuka World will be the last DLC pack for Bethesda's Fallout 4. After 6 DLCs Bethesda decided to cease work on Fallout 4 and move on, although you can expect future patches, bringing new fixes and optimizations. The release date for Nuka World is Tomorrow, 30th August, and by the looks of it, last DLC pack might be the best.
If you live in North America, you'll be able to play the game a bit early, since global launch is starting at 12am BST (British Summer Time); that's 7pm EST.
it's a global release time starting at 12am BST on the 30th. This means NA launch is 7pm on the 29th

— Fallout (@Fallout) August 15, 2016
Nuka World's size is one thing fans are interested in, and looking at the DLC file, 3.7 GB doesn't seem like a lot. But since Far Harbor weighs 2.68 GB and it offered 20 hours of content, we can assume Nuka World will feature more content than any previous DLC pack. DLC is priced at $20, and it will be free for all Season Pass owners (which can still be bought for $49.99).
As you can see on the picture bellow, there are six large areas interconnected by roads, and you can see that there is more than few POI (Places Of Interest).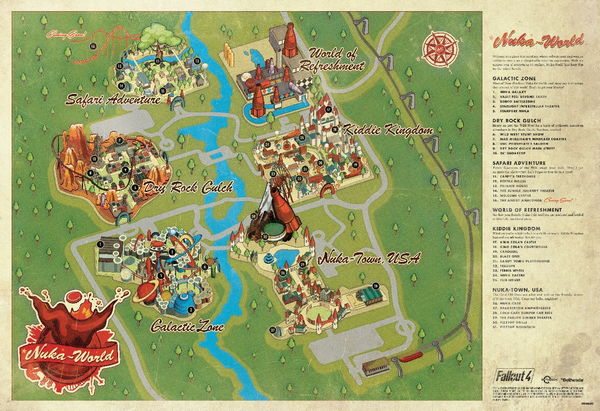 If you want to wander through Nuka World, aside from buying it you'll have to install the latest 4.1.7 patch, bringing some fixes and preparing the main game for Nuka World. For all people wishing to get some hint at the size of the DLC, Bethesda introduced the Nuka World Map (showed above) which can be downloaded for free from Bethesda's Official Site.