It's that time of the year again when we've got two football games to choose between. FIFA 17 and Pro Evolution Soccer 2017. We had a hands-on with both games and are really excited to share our comparison of both games with you in this FIFA 17 vs PES 2017 article. It's like a political campaign, just replace Hillary and Trump with the two.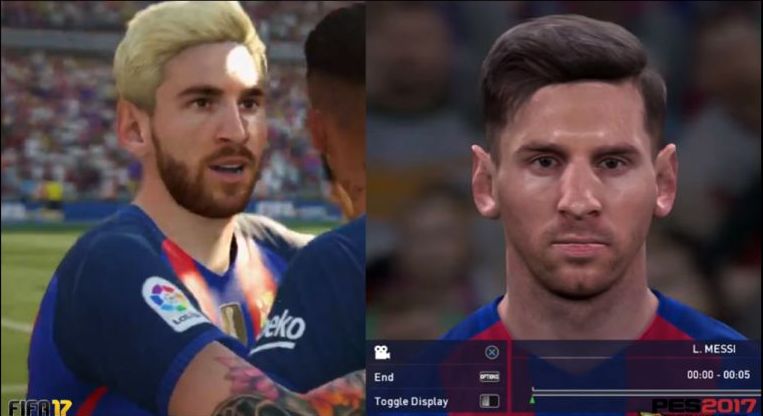 FIFA 17 vs PES 2017 – Gameplay
We know a lot of people reading this comparison article probably don't even like PES 2017's gameplay. If you're expecting us to jump on the hate bandwagon with you, then don't hold your breath. PES 2017 can't play exactly like FIFA 17 because then there will be no point in having another football game. So, this is essentially up to the player. If they like to have a more realistic football experience then try FIFA 17. Otherwise, if you just want to run around dribbling the ball and scoring goals then PES 2017 is your game.
FIFA 17 vs PES 2017 – Graphics
Nope, Frostbite engine does not beat PES 2017. It doesn't even come close to it. We recently mentioned how player model faces look damn realistic in the new PES 2017 and FIFA 17 has nothing on that even with the Frostbite engine. In fact, the game appears to be under utilizing the engine a lot, hence the crappy graphics. In the graphics department, you can bet your graphic card PES 2017 is better than FIFA 17.
FIFA 17 web app
So, EA makes huge strides to beat Konami. One way they make up for their shortcomings is through the FIFA 17 web app. The web app is available only to early access players at the moment. However, it will be available to all soon. The web app is how FIFA 17 creates additional appeal for itself. It's there you can earn in-game currency through trading players. But is this a game changer.
FIFA 17 has registered clubs
Yes, we definitely understand your frustration when we see absurd team names on the pitch in PES 2017. Thankfully, nothing like that happens in FIFA 17. However, if you still want to stick with PES 2017, we recommend following our modding tutorial to add real life club names and logos to the game.
My Journey
So, remember how we previously asked whether the extra stuff in the game can be a game changer? Well, the My Journey mode is something added to the game for the first time. It's kind of like MyCareer in NBA 2k17 but with lesser customization options. However, it still puts the game way ahead of its competition.
Let us know what you think of our FIFA 17 versus PES 2017 comparison.