The celebrity-private-pics-leaking social phenomenon, named as #Fappening has struck again. The Fappening 3.0 of the infamous digital disaster targets singer #Nicole Scherzinger and Fifty Shades of Grey fame #Dakota Johnson.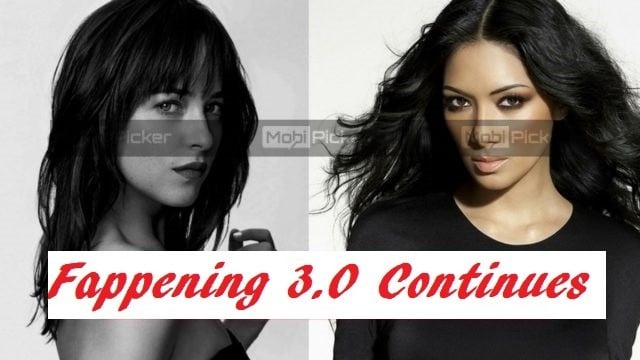 Almost every single time, hackers exploited Apple's cloud storage service iCloud to get access to private pictures of celebrities. It isn't different this time either. If the threat continues to grow, Apple will have to rethink their security algorithms seriously.
Several websites have published the nude pictures of both Scherzinger and Johnson. In some pictures, the latter has been seen under the shower and in the pool with her friends. A website reports that in some pictures, they found Addison Timlin with her. Going with the past trends, the chances are the photos were leaked from the phones of Timlin or Johnson.
In the last episode of this social menace, the affected celebrities took the legal route to take down the website with the leaked images. Nonetheless, we all know it would do very little given the visuals have flown several times across the globe through the internet.
As you can imagine, these two are not the only victims of the notorious Fappening. The following is the list of celebrities who happened to sacrifice their privacy due to this unscrupulous digital havoc.
Jennifer Lawrence
Kate Upton
Abigail Spencer
Alison Brie
Ariana Grande
Ashley Green
Aubrey Plaza
Avril Lavigne
Becca Tobin
Brie Larson
Christina Hendricks
Dwayne Wade
Emily Ratajkowski
Gabrielle Union
Hayden Panettiere
Hope Solo
Jennette McCurdy
Jenny McCarthy
Justin Verlander
Kaley Cuoco
Kat Dennings
Kate Bosworth
Kim Kardashian
Kirsten Dunst
Krysten Ritter
Lea Michele
Leelee Sobieski
Mary-Kate Olsen
McKayla Maroney
Meagan Good
Rihanna
Scarlett Johansson
Teresa Palmer
Vanessa Hudgens
Victoria Justice
Yvonne Strahovski
Once the Fappening 2.0 happened, Apple stated that the sneakers untied a targeted attack on usernames, passwords, and security questions. According to the company, the mode of operation is either brute-force guessing or phishing. Whatever it may, the privacy of the victimized celebrities have been critically surrendered (unconsciously, though).
From a gadget enthusiast's point of view, this threat raises a huge responsibility on the shoulders of Apple, especially as the iPhone 8 launch has come to the brim. Let's hope they will repair the flaws.
Meanwhile, check out how could you avoid Fappening hacks.