Fallout 4 Nuka World DLC adds a brand new magazine to the game called SCAV! You can collect these for added benefit. We've taken the time to find the location of each magazine. There are 5 magazines in total and each magazine adds unique abilities to you. Collect all five to earn the Diebrarian achievement. Here is our Fallout 4 Nuka World SCAV guide.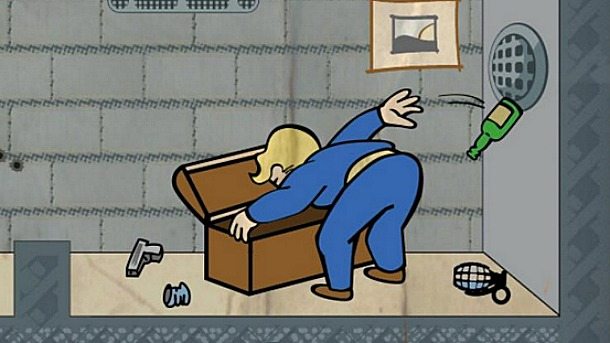 Magazine No. 1 – The Terrible Truce
Location – Galactic Zone
Go to the employee-only area at ground level near Star Control tower. Search nearby a bus for some boxes and a loot chest.
Benefit – Increase speech success chance by 10%
Magazine No. 2 – Fear the Knife King
Location – Nuka-World Junkyard
Found in a barn on the east side of the Junkyard, west of the map. Magazine is found on the desk on the upper floor right next to a Star Core. You can read our Star Core guide here.
Benefit – Combat Knife and Switchblade damage increase by 25%
Magazine No. 3 – Mutant Fists of Stephie Knuckles
Location – Kiddie Kingdom
In the Funhouse. Enter the spinning tunnels from the hall of mirrors side. Take the first right and then turn left and move forward till you hit the wall. You'll see the magazine by a corpse
Benefit – Hand to hand weapon damage increase by 10%
Magazine No. 4 – Nuka Brahmin Stampede
Location – Grandchester Mystery Mansion
There's a dungeon in the southwest of the Nuka-World map. The path to the magazine is through a locked employee's only door near the exit sign at the end of the tour. Climb the stairs and search the workroom, it's to your right immediately when you enter the room
Benefit – Increase explosive damage by 5%
Magazine No. 5 – That No-Caps Rage
Location – Dry Rock Gulch
Found on a table on a rooftop
Benefit:
+1 Strength & +1 Endurance if you have <= 10,000 caps.
+2 Strength & +2 Endurance if you have <= 1,000 caps.
+3 Strength & +3 Endurance if you have <= 100 caps
Stay tuned to MobiPicker for more Fallout 4 Nuka World SCAV guide and more.