Next month, Fallout 4 will be getting its next DLC, Far Harbor, which is also the final one in the first batch of DLC for the game. Here's what we know about the DLC so far, and what to expect from what is billed the biggest expansion Bethesda has made.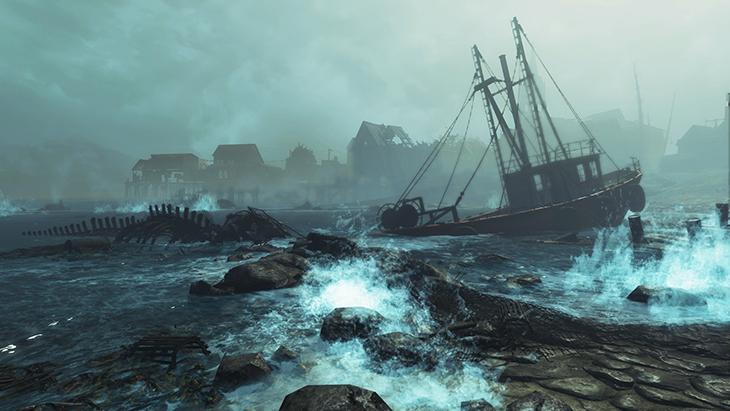 A new case from Valentine's Detective Agency leads you on a search for a young woman and a secret colony of synths. Travel off the coast of Maine to the mysterious island of Far Harbor, where higher levels of radiation have created a more feral world. Navigate through the growing conflict between the synths, the Children of Atom, and the local townspeople. Will you work towards bringing peace to Far Harbor, and at what cost? Far Harbor features the largest landmass for an add-on that we've ever created, filled with new faction quests, settlements, lethal creatures and dungeons. Become more powerful with new, higher-level armor and weapons. The choices are all yours.
According to Bethesda's Pete Hines, the expansion will be bigger in size than Shivering Isles, the expansion to The Elder Scrolls IV: Oblivion. Game director Todd Howard confirmed that the landmass is indeed bigger than Shivering Isles, but will not feature as much content as that expansion, and that Far Harbor has been priced accordingly.
The latest 1.5 update beta for Fallout 4 has also revealed some interesting new information on the base building options that will be available in the game. This includes warehouses, barns, scaffolding, boxcars, elevators, ball tracks, advanced switches, elevators and more. Even if the plot doesn't seem to call for it, Bethesda seems keen on adding a ton of base-building options to the game.
Far Harbor is expected to release some time in May, and we will likely not hear of its exact release date until a few days before release. The DLC will be released for the PC, PS4 and Xbox One simultaneously and is expected to be around 3 GB in size, at least on the PC, according to SteamDB. Let us know your thoughts on the DLC in the comments below.