Fairy Tail chapter 517 was released recently, and fans are now eagerly waiting for the next chapter to arrive. The previous chapter was an interesting one as we got to see what Wendy could do. Based on what happened in the previous chapters, it now seems that Erza will finally defeat her mother, Irene, who is currently the strongest member of the Spriggan 12.
So without any further due, here is what happened in the previous chapters of Fairy Tail along with what is expected to happen in the next one.
Fairy Tail Chapter 518 Spoilers 
As we all know, in chapter 516, Irene managed to transfer herself into Wendy's body through an enchantment. Because of this, everyone started thinking that Erza will have to go through Wendy first in order to get to Irene, meaning that she will have to kill Wendy. It was later speculated that Wendy will kill herself intentionally to take down Irene. However, none of this happened as Wendy took care of this problem in another way.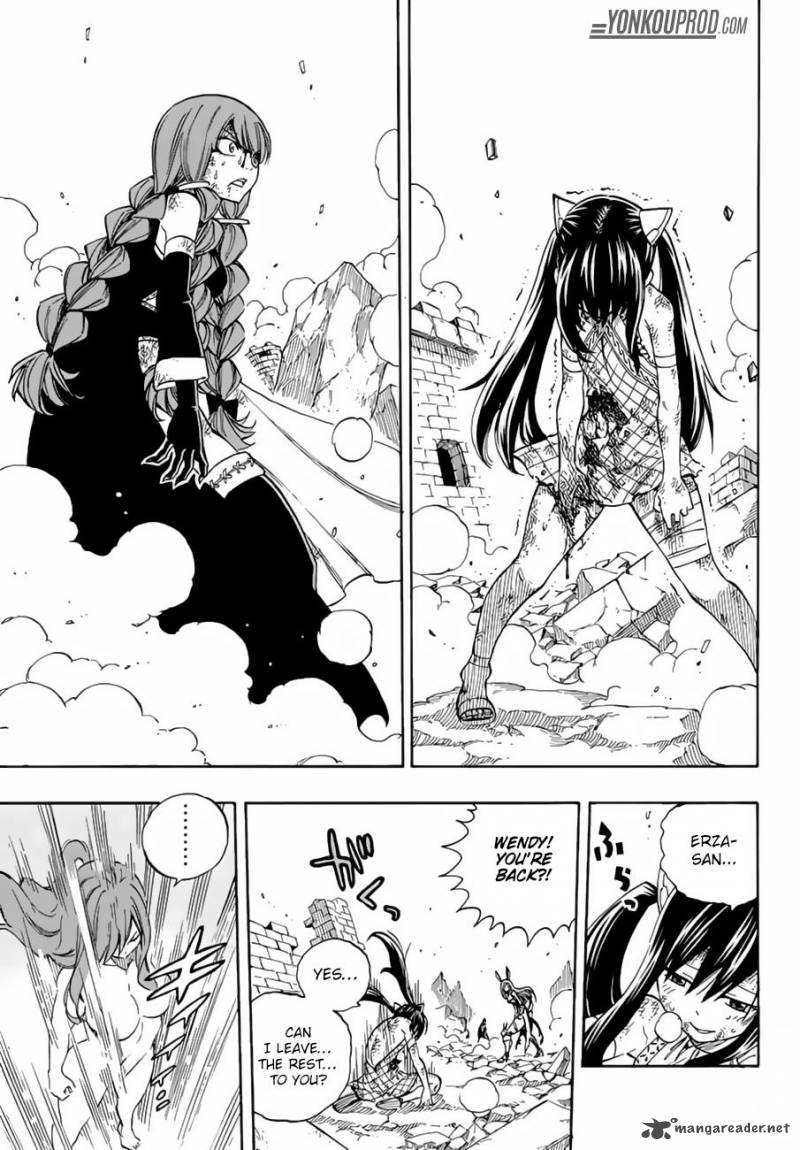 In Fairy Tail chapter 517, Wendy managed to counter Irene's enchantment easily. Avid fans of the series know that Irene is a powerful mage who has been practicing enchantments for a lot of years. However, her enchantment still wasn't strong enough for Wendy as she managed to break through it easily. What surprised fans most was the fact that Wendy had no prior knowledge on how to counter enchantments.
Erza To Defeat Irene In Fairy Tail Chapter 518? 
Now, after what Wendy did, fans are now believing that Irene is not as strong as they thought. As Wendy managed to break through one of her enchantments, it wouldn't be hard for Erza to take Irene down. Wendy also managed to damage the body of Irene while breaking through her enchantment, thus making it even easier for Erza to defeat Irene. Fans know that Erza is currently one of the strongest members of Fairy Tail, so she won't disappoint her guild members by losing against Irene.
Irene Wants To Die? 
On the other hand, some rumors claim that it could later turn out to be what happened between Gray and his father Silver. In the previous chapters, when Silver told Gray that he is Deliora, Gray killed him. However, it was later revealed that getting killed was part of Silver's plan as he wanted to pay for all the sins he committed in the past. Now, because of what has been happening recently, it might get revealed that Irene wishes to die because of all the crimes she as committed.
Fairy Tail Chapter 518 Release Date 
Fairy Tail chapter 518 will be released on January 25, 2017. Let us know if you're excited for it or not in the comments below.