Fairy Tail chapter 515 left fans speechless as Eileen turned out to be Erza's mother. The said chapter also focused on the past of Eileen, like the suffering she went through. Now, the next chapter is expected to reveal how Erza was born after her mother kept her inside her for more than hundred years, and why the enchantment didn't work.
So without any further due, here is a short recap of Fairy Tail chapter 515 along with what is expected to happen in Fairy Tail chapter 516.
Fairy Tail Chapter 515 Recap
Fairy Tail chapter 515 focused on what Eileen went through. It can be recalled that because of the Dragon Power Eileen had inside her, she started to transform into her dragon form shortly after marrying the general. However, because of her dragon form, everyone, including the general, turned against her as they thought that she would turn out to be the next Acnologia. They later locked her away and tortured her, and then decided to execute her. This is the reason why she now hates humans.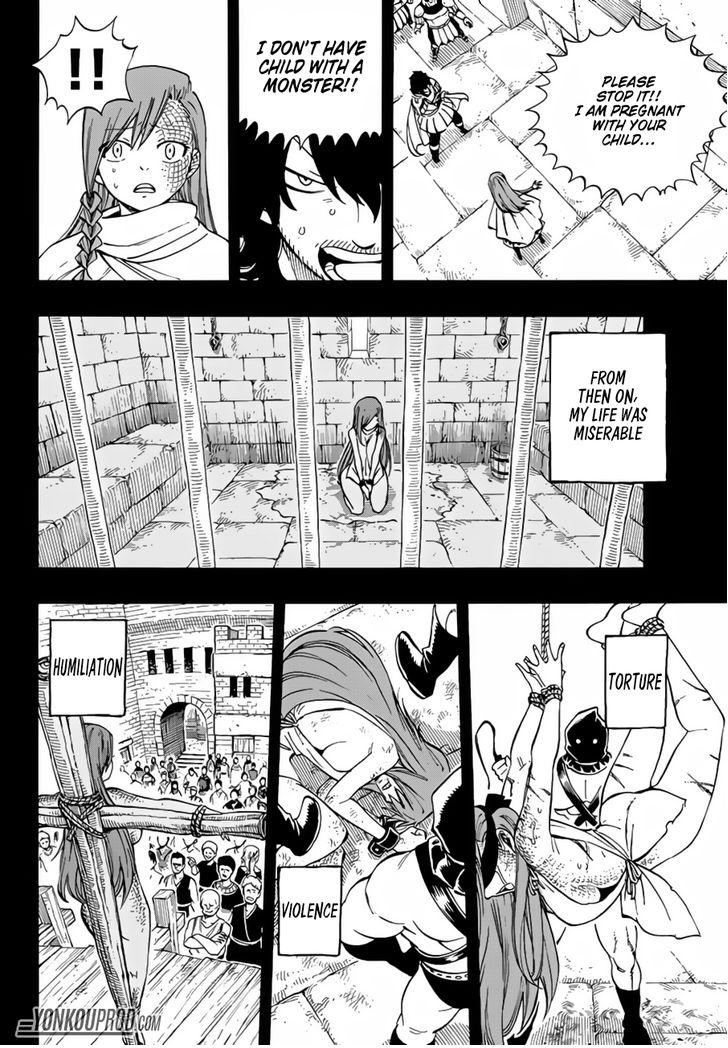 Eileen's husband then tried to cut open her belly to find out whether she really was pregnant or not. This made her furious and she then transformed into a dragon and started to create havoc. Hundred years later, she met Zeref who helped her transform into her human form again. However, she was still a dragon from the inside as Zeref couldn't completely transform her.
Eileen then started to perform various enchantments on her new-born child, Erza. She kind of used her body to test her enchantments. However, after trying a lot, she failed to transform back to her human form. This is the reason why she dumped Erza and started considering her as "useless trash."
Eileen's Enchantments 
Now, fans are eagerly waiting to see why Eileen's enchantments failed. Speculations are that Erza was actually born a Dragon and Eileen tried to convert her into a human. As this wasn't possible, she failed every time. And later, she gave up on everything and decided to help Zeref.
Erza And Eileen To Take Down The Spriggan Together 
Currently, rumor is that Erza will be the very person who will help Eileen transform into her human form again. It is said that because of the various enchantments Eileen performed on her, she will have some kind of power inside her through which she will be able to help Eileen. If Erza is successful in transforming Eileen back to her human form, then Eileen's point of view might change and she might form an alliance with Erza to take down the Spriggan.
Fairy Tail Chapter 516 Release Date 
Fairy Tail chapter 516 will be released sometimes this week. Let us know if you're excited for it or not in the comments below.