Fairy Tail chapter 506 was released a few days ago, meaning that fans are now eagerly waiting for the next chapter in the critically acclaimed manga series to arrive.
The last few chapters have kind of left almost every fan heart-broken, as they have showcased some of the most depressing moments. At first, we got to see the passing of Makarov, as he sacrificed himself for his children. Afterwards, we saw the two most important members of Fairy Tail Guild, Natsu, and Gray fighting each other. Both of them are currently trying to end the lives of one another. So this is kind of the time when the Fairy Tail Guild has to stand up and take some serious actions, as they can not waste the sacrifice Makarov made for them.
So without any further due, here is a short recap of Fairy Tail chapter 506 and spoilers of chapter 507. Keep in mind that the following recap contains major spoilers, so proceed at your own risk.
Fairy Tail Chapter 506 Recap
At the start of Fairy Tail chapter 506, Eileen met Zeref and told him that 70 to 80 percent of their entire army has been wiped out. She further stated that the number of casualties has increased in the past few days. However, Zeref didn't pay any attention to this, as it didn't worry him even for a single second. In fact, Zeref stated that Makarov made good use of the magic Mavis passed on to him. He praised both Makarov and Mavis for the magic energy they possess. He then stated that he wants to achieve his goal at any cost. Eileen then assured him that the remaining Spriggans can do the job by themselves and they can handle the Fairy Tail Guild alone.
After Eileen said farewell to Zeref, the scene switched to Natsu and Gray, who were still fighting each other with all their might. Both of them were seen trying their best to end the lives of each other. And this time, the battle got more intense as both were about to go all out to deliver one last blow. Both of them then charged towards each other, with half of their faces covered with darkness. As they are about to hit each other with all their might, Erza appears out of nowhere, steps into the middle of their battle and stops their attack by her bare ends, thus shocking both Natsu and Gray.
Erza To Damage Her Hands In Fairy Tail Chapter 507
Now, in Fairy Tail chapter 507, Erza might have damaged both of her hands in the process of stopping them. Both Natsu and Gray were delivering their final blow, in which they went all out. So stopping both of them at the same time wasn't an easy thing to do, even for Erza. Along with this, we also got to see that instead of Juvia and Lucy, Erza was the one to stop Natsu and Gray from killing each other. So fans definitely saw a turn of events.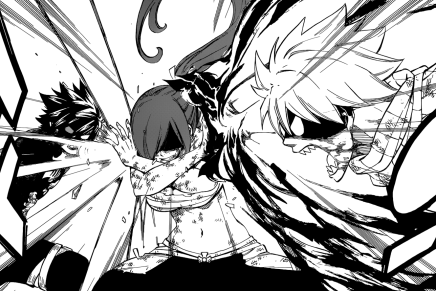 Along with this, after what Erza did, Gray and Natsu might finally come back to their senses. Erza will definitely reveal what happened to Makarov, and this might make the two team up and take down Eileen and August together. There are currently rumors claiming that Eileen will do something serious, which will fully activate E.N.D inside Natsu, because of which he will easily defeat Eileen.
Fairy Tail Chapter 507 Release Date
Fairy Tail chapter 507 will be released some time in this week. The chapter will reveal what Erza will do in order to get Natsu and Gray back to their normal state. If she actually does manage to bring back Natsu and Gray, it would be without any doubt, interesting to see how the two will team up to defeat Eileen and August together. The chances of Erza joining them would be low, as she will have to recover from what she did while stopping Natsu and Gray.
Let us know if you're excited for Fairy Tail Chapter 507 or not in the comments below.