SNES Classic Mini pre-orders are almost all gone like the wind. With the major retailers such as Amazon, GAME, Argos, And Tesco Direct, all the pre-orders for SNES Mini Classic have been sold out in the UK and other regions.
The pre-orders in the US are still without a date and no official word has come out neither from the developers nor the retailers. In the situation where the fans are left without any console pre-orders, the new retro console, Polymega, is definitely something like a beautiful dream come true.
The Polymega is a new upcoming retro console that's soon going to get a Kickstarter startup. The console is reportedly going to be available in the markets soon. The new Polymega console is a modular device that offers games in 1080p HD. It's capable of playing a whole lot of host retro consoles such as NES, SNES, PlayStation Original, and Mega Drive.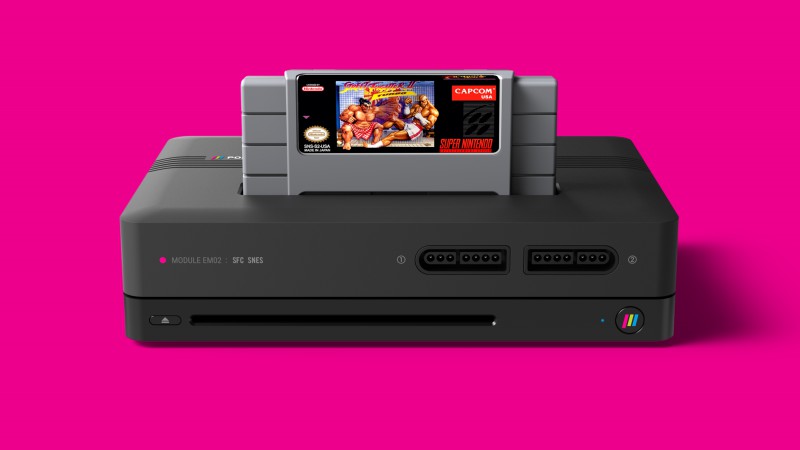 Once available, the console will allow players to play a whole host of various gaming systems by just changing the modules. This will, in turn, enable all the fans to enjoy a huge amount of new and old retro games. In addition, fans will be able to enjoy console's original accessories with each individual module.
The console comes with a console module, a wireless Bluetooth controller, and a Base unit. The Base unit of the Polymega console features the CD System as well. And it's one of the best things you'll get with the Polymega. The CD Drive allows playing PlayStation, TurboGrafx, Neo Geo, and PlayStation CDs games.
According to latest breaks, the developers behind the Polymega have hinted out the console's price. However, the exact price and release date info are yet to be revealed. It is expected that the Polemega console will cost way lesser than Nintendo Switch and will be retailed at approx. $362.62. You will be able to buy more modules in order to expand your gaming circles. The individual modules for the console will be available for $64.75.
Polymega or also formerly known as Retroblox is a Los Angeles based firm and this new project is headed by gaming industry's top tier veterans such as Eric Christensen and Bryan Bernal. More information about the Polymega is expected soon. So, stay tuned.
For more details and FAQ, you can check Polymega's official FAQ page.