Today, Facebook is the go-to website for networking – be it social networking, networking with friends or building business network via Facebook pages. And now, Facebook doesn't want to restrict itself to just this – it plans to widen its reach in the corporate world. Facebook on Monday unveiled "Workplace" – a new enterprise version of Facebook to effectively support collaboration within businesses. While a lot of revenue for Facebook comes from advertising space, the new Workplace is likely to add another stream of revenue for Facebook. Speaking about Workplace, Mark Zuckerberg, the CEO of Facebook said -"Workplace will help more companies create the kind of open culture that encourages people to connect and share".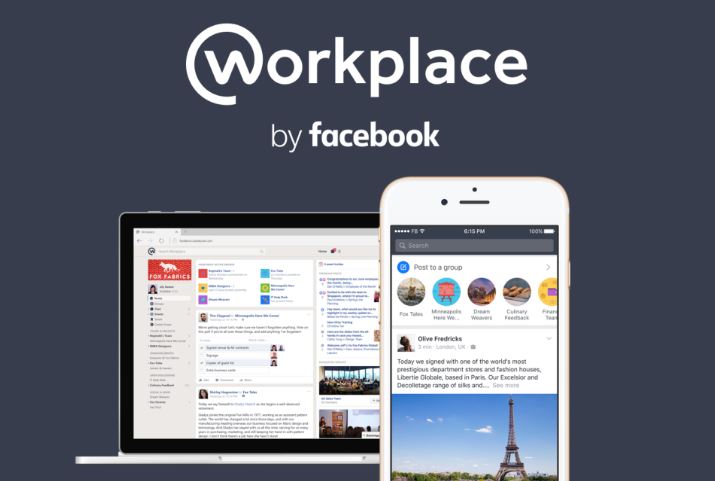 Workplace Features
Over 1000 organizations worldwide already use "Facebook at Work". Expanding its reach, the new "Workplace" will enable users to do much more – by bringing the best of Facebook to the workplace – including News Feed, ability to create and share in Groups or via chat, features such as Live, Reactions, Trending posts and Search. The new workplace lets users chat with colleagues from virtually any corner of the world in real time, host virtual brainstorm in Group and listen to their company Executive's presentation on Facebook Live.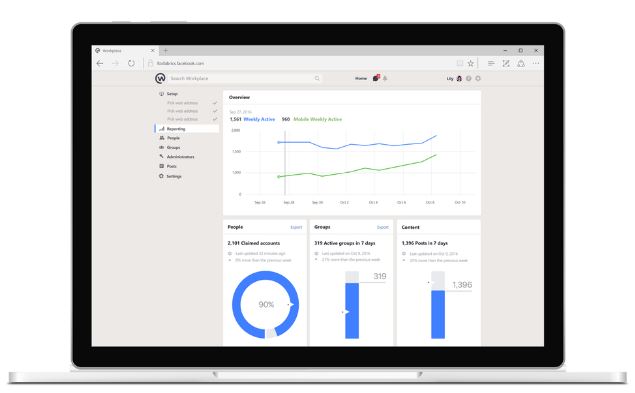 And the best thing about Workplace? Well, you guessed it – workplace accounts are ad-free! To avoid distractions and loss of productivity, Facebook has kept Workplace account entirely separate from users' personal Facebook accounts. Workplace looks less bright – with a subdued gray color scheme that goes well with the corporate environment. Workplace comes with unique features such as a dashboard with analytics and integrations with single sign-on and Multi-Company Groups (shared spaces that allow employees from different organizations to work together). Multi-Company Groups are the safe and secure way of extending collaboration beyond your company.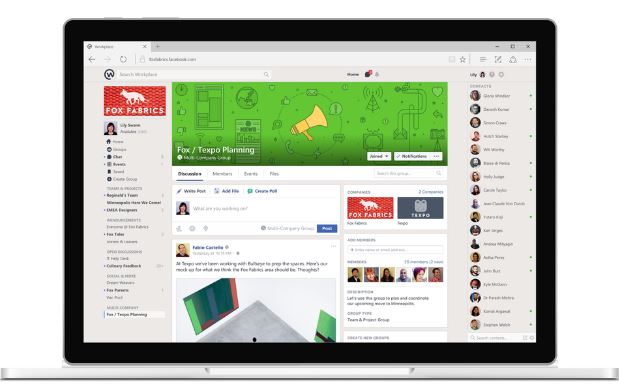 Competition
Microsoft's Yammer and Jive by Jive Software have similar offerings in this space. And Facebook wants to capture this market now with Workplace. Facebook already has a head-start, given that nearly quarter of the world's population uses Facebook monthly and over 50 million companies maintain a Facebook page. This should give Facebook strategic advantage to push the usage of Workplace across all businesses. Facebook is also positioning the simplicity and easy of usage of Workplace as its USP to get more businesses to use Workplace.
Pricing
If you are running a non-profit organization or an educational institution, Workplace is absolutely free. But other organizations have to pay a monthly rate based on the number of active users. The way the pricing works depends directly on the number of users – $3 per employee for first 1000 employees, $2 per employee for 1001 to 10000 users and thereafter the pricing drops to $1 per employee. And if you are wondering what comes as part of Workplace package – it includes unlimited file photo and video storage and unlimited groups.
Mark Zuckerberg believes that the organizations' feedback so far about Workplace has been very positive and he expects to see more and more companies embracing Workplace in their day-to-day business.