Tagging is one of the most widely used features in Facebook. Pictures with tags have become ubiquitous on Facebook. And now Facebook has introduced the concept of tagging in WhatsApp – the app that it acquired for a whopping $19 billion back in 2014. The concept of tagging is exclusive to WhatsApp Groups. This feature allows users to tag people in group chats and the person tagged in the group chat receives a notification. The update is available for iOS and Android but not for the desktop version.
To tag someone, all you need to do is enter the '@' symbol, followed by their name, just like you do on Facebook. When you enter the '@' symbol, a pop-up menu displays the group participants and you can select the person you want to tag. You can also tag multiple contacts in a single message. The feature works even if the person you tag isn't in your contact list but is a participant in your group. Not long ago, WhatsApp released a feature which allowed you to respond to a specific message in the group by tapping on the message and selecting 'reply'.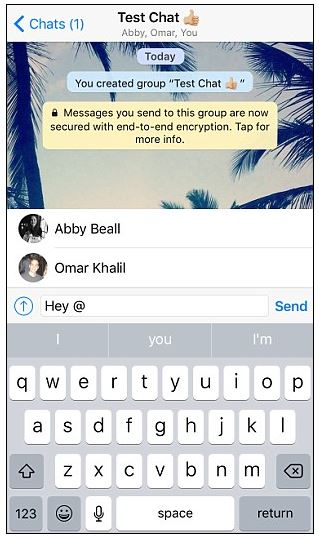 While at the outset the new feature looks to be a value-add, several users are annoyed that they cannot mute the notifications they receive when they are tagged in a conversation. The new feature will send a notification to the device of the person you tagged, even if that person has muted the group. We all know how annoying WhatsApp group messages can get. Most of us would have chosen to mute some groups to stay away from notifications that keep bombarding 24×7. Looks like this new feature takes away peace of mind from users.
But on the positive side, if you are part of an important group and don't want to miss important updates, this feature can come in handy. It's better if Facebook provides the option to mute tagged notifications as well. With many users already complaining on twitter and other forums, it looks like Facebook will consider this request in the next update.