The Exploding Kittens card game is one of the most popular projects on the Kickstarter crowd funding site. The game is backed by 219,382 people on Kickstarter and has gathered a funding of $8.8m in early 2015. Such huge success should obviously reap some fruits and benefits to the public, so the creators of the game have decided to go mobile and target a new set of digital audience. The Exploding Kittens iPhone app has already been released, while the Android version will be uploaded to the Play Store soon.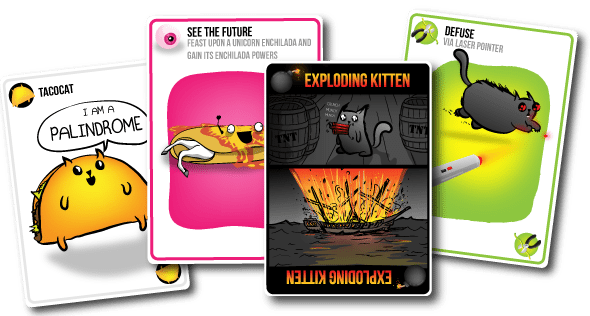 For those who don't know, Exploding Kittens is a very intuitive game. It works this way- you need to draw from a deck of cat-themed cards while trying to avoid the exploding kittens cards. These cards knock you out of the game, so either avoid drawing them, diffuse them, or try to make those cards fall into the hands of other players.
The iPhone version of the Exploding Cats allows you to play with friends locally instead of playing over the internet or playing alone. The website of the game says that it is a party game and not something meant to be played alone or with internet strangers. However, the game is still trying to win over users' hearts, as it has only got a 2.5-star rating in the UK app store, and a lot of users are demanding for a single-player mode.
Developed by Substantial, the Exploding Kittens game connects players locally through Bluetooth and Wi-Fi. However, the developer does warn that the technology is new and might not work perfectly due to bugs. The physical version of the card game costs £16, but the iPhone app costs only £1.49. Though, there are in-app purchases like player avatars and additional cards. The extra content will be made available to the users for free for the first few days as a token of gratitude to the backers on Kickstarter who made this app possible.