Xiaomi Mi Max is going to be launched officially on 10th May, which is just four days to go. The phone has already been certified by TENAA and a lot of leaks have already given us an idea about how the phone will look and what specs it will carry. The Xiaomi Mi Max price had already leaked out a few days back, and it was being said that the phone would cost CNY 1299, which roughly translates to $200 approx. Well, there's a twist in the tale.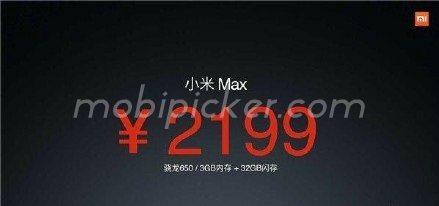 An anonymous tipster has sent us a screenshot of the official PPT for the Xiaomi Mi Max , and what it says is really confusing. The PPT clearly states that the Xiaomi Mi Max will be priced at CNY 2199, which roughly translates to $338 approx. To give you an idea, the basic variant of the flagship Xiaomi Mi5 costs around $308. In the PPT, below the price is mentioned that the phone that costs that much is running Snapdragon 650 with 3GB of RAM and 32GB of internal storage.
So how is it possible that the Xiaomi Mi Max carrying almost similar specs to the Xiaomi Redmi Note 3 albeit the larger display is more expensive than the Mi5? Well, one possible explanation for that is that it might be a typographical error and the numbers might have got mixed up to mean CNY 2199 when they should instead mean CNY 1299.
But can such a reputed, global smartphone brand make such a silly mistake? Or is this tip unreliable? We'll see on the 10th of May, where the company is launching Mi Max, Mi Band 2, and MIUI 8.
Thanks for the tip!