Samsung announced two metallic apparatus a month ago and included in its Galaxy A lineup, Galaxy A5 and Galaxy A3. Now, Samsung has added one more device in the A series, Galaxy A7. However, we're still waiting for an official word to the Samsung Galaxy A7, which will be the most feature-packed apparatus in this new lineup.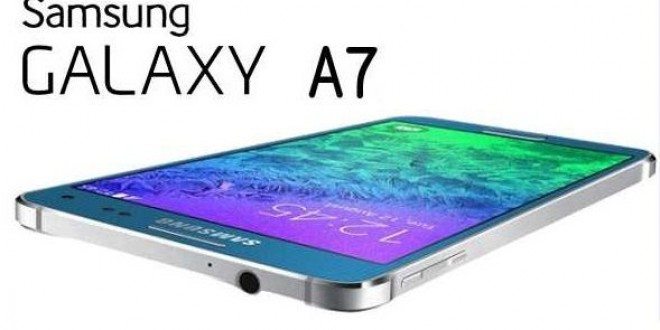 Leaks have revealed that Samsung Galaxy A7 will feature a 5.5-inch display with 1080p resolution, a Exynos 5433 chipset; that's the same processor that powers the Galaxy Note 4, the most high end Samsung apparatus available in the market at the moment. Some folks will likely wonder why Samsung is using its best SoC for non-main device, the Galaxy A7. But according to our information, that is really true and can mean the Galaxy A7 won't be as economical as the Galaxy A3 or A5.
The Exynos 5433 will be clocked at 1.8GHz for the high power Cortex-A57, and at 1.3GHz for the Cortex A53 cores that will manage general tasks. We're uncertain what the existence of the 5433 means for the rumored Snapdragon 615-powered version – the Snapdragon 615 isn't a high end chipset, which means that processor would be at a disadvantage when it comes to functionality.
The Galaxy A7 will sport a 2GB of RAM, 16GB of inbuilt storage, a 13 MP primary camera, a 5 MP front camera, a 2,600mAh capacity battery and Android 4.4 KitKat. The phone has dimensions of 150 x 75 x 6.3mm and 150 g weight; it's not the lightest Samsung device, although it will surely be the thinnest once it goes up for sale.
Overall, the Galaxy A7 is shaping up to be a respectable high end device without encroaching on the flagship territory that will offer an excellent user experience.
Keep on coming to check more updates on the phone.