It will be an understatement to say that the iPhone 7 is the most awaited smartphone of this year, as even non-Apple fans have been showing great excitement for the device. A lot of leaks and speculations have already given us a rough idea about the iPhone 7, and the next-gen phone will be unveiled in September, that's four months away. Well, here's some more exciting info.
An anonymous tipster has sent us some important and very exciting information about the iPhone 7 along with a promising screenshot. If the tipster is to be believed, then the production of the next-gen iPhone has already started at Pegatron and Foxconn, Apple's two assembly plants. The exciting part of the news is that the iPhone 7 will get three variants! So accordingly, there can be an iPhone 7, iPhone 7 Plus, and iPhone 7 Pro (or iPhone 7 Plus Premium). The addition of one more variant in the lineup has reportedly increased the amount of staff at the assembly plant to meet the required deadlines.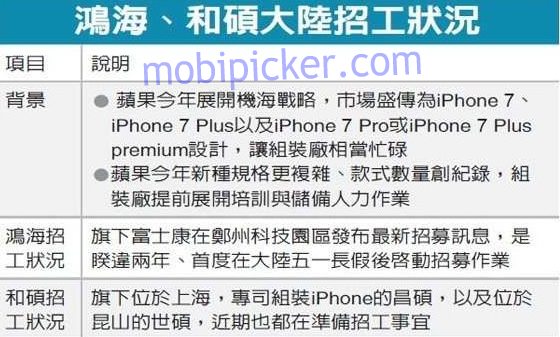 Till now, we knew that the iPhone 7 was to come with a larger Plus variant just like the previous two flagship iPhone releases. However, the information about a third "Pro" version raises questions as to what extra will it offer over the other variants. Will it come with a better dual camera? Or will it get a larger display as opposed to Apple's liking? It might get the much-rumored Smart Connector. Nothing can be confirmed right now.
As is generally the case with such leaks, we cannot confirm whether or not this information is correct, so we suggest you take this news with a pinch of salt. But there can be a possibility of a third variant if Apple has got some surprise tech gimmicks in store for us. What do you think? Will the iPhone 7 get three variants? Comment below.