Eminem's new album may hit the global music world anytime. He is one of the biggest names in the musical world and his absence from Solo since 2013 has left his followers highly disappointed. According to an American rapper Denaun Porter (stage name Mr. Porter), his longtime collaborator, the project is finally completed. Although 'The Marshall Mathers LP 2' singer has not given any official confirmation but fans initially were quite delighted by the news.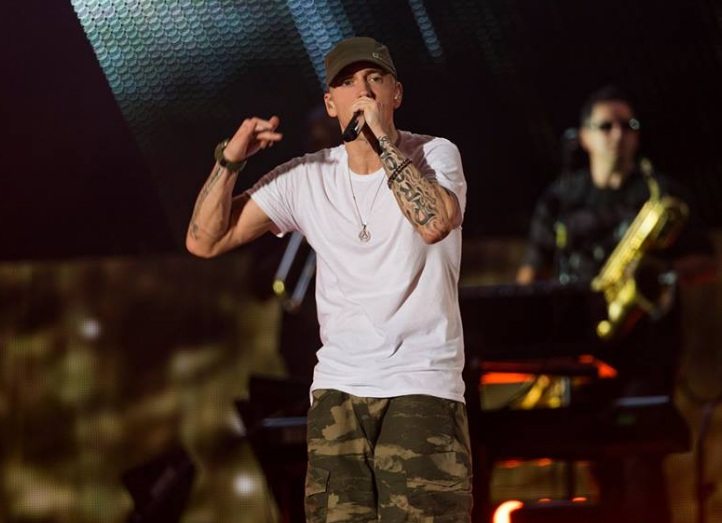 The progress of Eminem's new album was a big question to everyone. In October 2016, the 44-year old singer first announced that he was working on his new album. Multiple news swirled up that he collaborated with other top rappers like Nicki Minaj, Rihanna, Dr. Dre, Pink to name a few. But he didn't share many updates or give further details for several months, and this intensified his avid followers' curiosity to know when it will be released.
However, recently the 38-year old Denaun Porter first questioned himself in a livestream video session, "Am I working on Eminem' new album?" Then he answered saying "No, we are done. How about that?" But he did not reveal further details about the unnamed much-awaited album, as reported by HNHH.
On the other hand, Complex has also claimed that the album is actually not completed in reality. It has watered all the hopes of Eminem's fans by directly reaching to Porter to know what he actually meant by his statement. The outlet then reported that the rapper was just trolling. This was partially clarified by Porter himself who later said he would never remorse for sharing false information as he is not a guy to leak the details.
There is no doubt that Porter's confusing statement has highly disappointed the global music lovers who are passionately waiting for an update on Eminem's new album. But in other words, it is clear that Porter knows the art how to troll the trollers.
What do you think when Eminem will drop his much-awaited album? Let us know your opinion below in the comment box.