Eminem's new album is one of the most anticipated elements in the global music industry and fans are passionately looking forward to its release. Although we still don't have the official release date, it seems the 44-year old rapper will soon declare the release date or at least give a hint on it because the recent news suggests that he is going to collaborate with another singer like Nicki Minaj. Read further to get the details.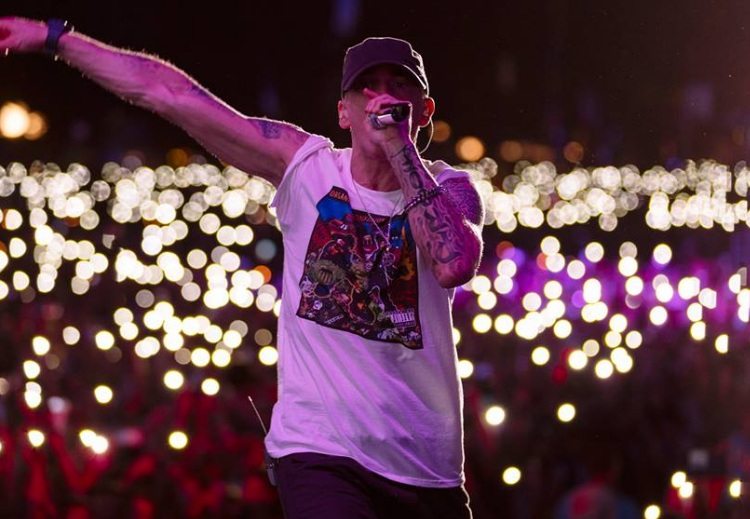 It has been over three years and a few months since Eminem launched his last album and this long hiatus may be disappointing to his avid fans but a ray of hope for him to make it a super hit.
A few days back there were several reports claiming the possible collaboration with Ed Sheeran for the making of Eminem's new album. But now it seems the collaboration won't take place with the 26-year old 'No. 5 Collaborations Project' singer.
However, some recent reports are claiming that Eminem is making his new album and he wants Nicki Minaj to be a part of it. This may be because Eminem was featured in Nicki's 2010 hit song 'Roman's Revenge' and some fans are of the opinion that he will soon repay the favor done by 34-year old 'Pink Friday: Roman Reloaded' rapper.
In a recent media conversation, Nicki revealed her interest to share the studio once again with Eminem. "I never thought about that, but you know what? That's a dope idea," Nicki Minaj said, as cited by Hall of Fame.
However, Eminem so far has not commented or even hinted on his possible collaboration with Nicki. He even has not shared when his avid fans and followers will be able to listen to his much-awaited album. Stay connected with us to get the latest updates on Eminem's new album.