Every other day some new company comes up on the horizon launching ager, better, and smarter phones with asset of features unseen before and unheard of prices making the competition hotter and thereby raising the standard higher. A Chinese dark horse named Elephone is all geared up to launch a whooping 10 core CPU Android smartphone on October 20th, 2015. Dubbed Elephone P9000, it sports a much hyped MediaTek Helio X20 MT6797 deca-core processor. Adding fuel to fire it is coupled with Mali 8x series GPU which runs at cool 800 MHz. More over the phone comes with 4GB internal RAM.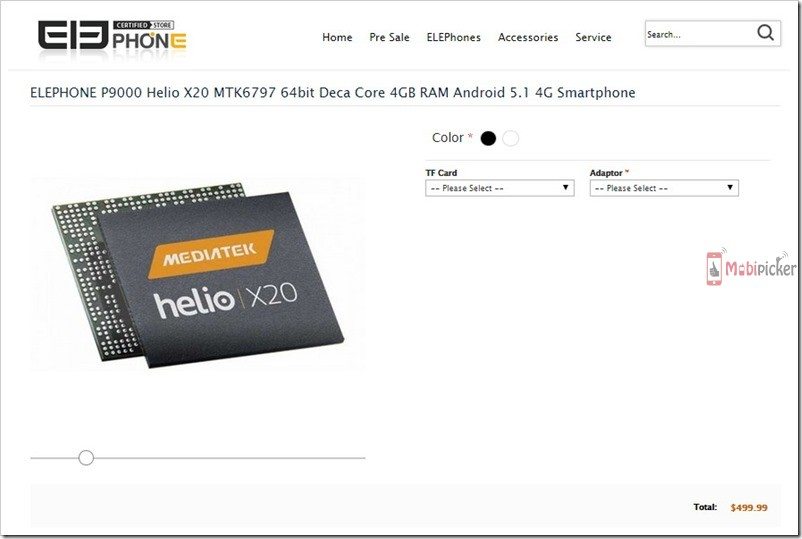 Some days back, MediaTek announced Helio X20 which has a deca-core chipset, now Elephone is the first company to announce its feature rich deca-core smartphone which is armed with MediaTek chipset.
A few noticeable features of MediaTek Helio X20 Deca-core processor are as follows:
Tri-cluster CPU architecture promises top of the line performance utilizing minimum power. (2 core A72 clocked at 2.3 GHz, 4 cores A53 clocked at 2GHz, 4 cores A53 clocked at 1.4 GHz).
It consumes one third less power in comparison to other octa-core models in competition
Display rate is clocked up to 120 fps promising unbelievable experience in gaming and entertainment.
GPU performance is 140% higher and which results in 60% battery saving
It has a massive 32MP snapper with a built in 3D depth engine
It has built in low power sensor hub specially for apps that consume less power such as MP3 player, Speech recognition etc.
It has a efficient Word-mode modem – LTE Cat-6
It supports a whooping 4K video playback and recording and not to forget 2K display support
Operating system is all time favorite Android 5.1
GPU is Mali T860 or T880 which is still to be finalized.
Internal RAM is 4GB and SD card storage can be escalated up to 128 GB.
It comes with a 8MP front shooter and display is 5.5 inches full HD. Yes it supports dual SIM with a massive battery of 3100 mAh.
Other Specs include, a 5.5 inch 1080p display, 32GB internal storage, 20.7MP rear camera, and an 8MP front shooter. Powered by a 3,100mAh battery, the Elephone P9000 will run Android 5.1 out of the box.
On a concluding note at a price tag of $499 (as per current exchange rate Rs. 31,675), Elephone is a massive killer on loose. It is going to end the competition in a whiff is as the cheapest high-end Smartphones manufacturer. Selling a deca-core phone at this price is a dumbfounding for the rest of the market. So keep your fingers crossed.