It seems that the demand for Skate 4 has increased as its eagerly waiting fans are commenting 'Skate 4' on each post present in EA's Official Instagram account. Though EA isn't responding to any of these comments, but is pretty much aware of this as every post has around 500+ comments regarding Skate 4 on it.
This was started only by a few users and then it instantly became a thing as a lot of users joined them. Some sites picked it up to, so there is no doubt that EA is aware of this madness.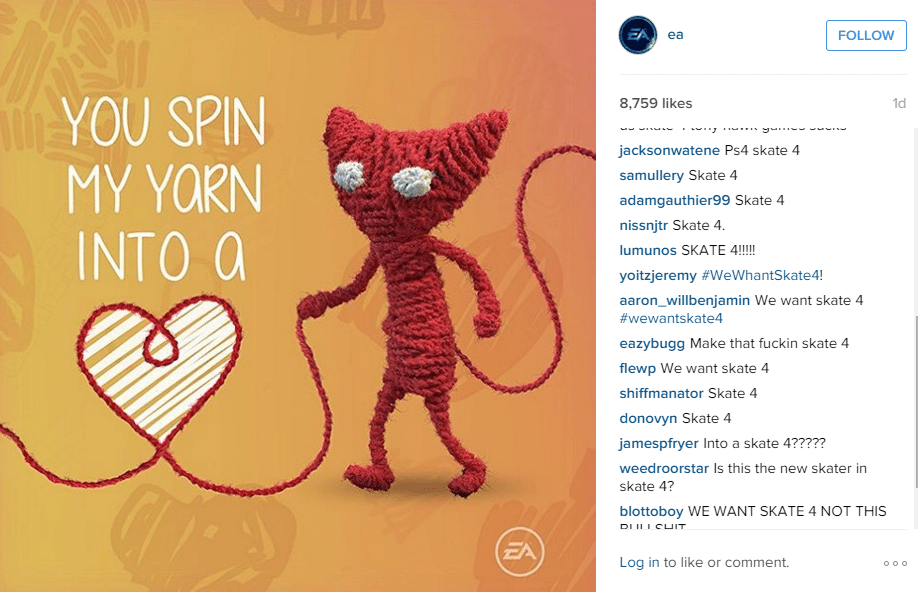 EA was simply trying to wish its fans a Happy Valentine's Day but then again, Skate 4 was more important than Valentine's Day so instead of wishing them back, people started demanding Skate 4 on Valentine's Day posts too. Though some users got so excited over this that they even demanded Skate 5 instead of Skate 4…. even Battlefield 5. You can head over to EA's Instagram account yourself and have a look at this angry mob which is taking place there.
The latest installment in the critically acclaimed Skate series is Skate 3 which was released on May 11, 2010, for PS3 and Xbox 360. The game is developed by EA Black Box and published by Electronic Arts. It has been more than five years since Skate 3 was released and since then, we haven't heard anything major regarding its sequel, that is Skate 4. Whatever the case is, this Instagram incident will most likely convince EA to start working on Skate 4 or at least announce something regarding it.
Let us know what you think about this news in the comments below.