Doom Unto the Evil is now available to download from Steam. You can get it from the official Doom site or from Steam.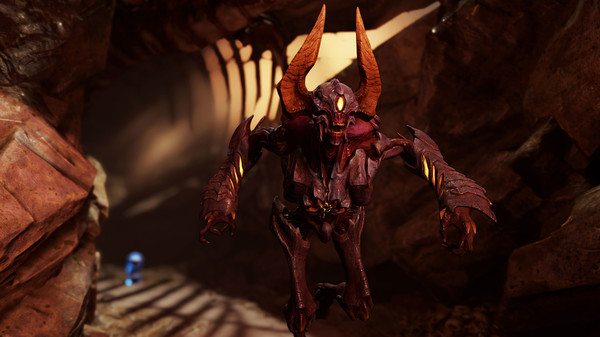 Doom Unto the Evil is live now! Get it now from Steam or the official Bethesda site
Unto the Evil™ is the first of three DLC Packs bringing all-new multiplayer content to DOOM®. Players get three new maps to dominate, one new playable demon to unleash, a new weapon to master, a new equipment item to vary their arsenal, and a host of new armor sets, taunts, and Hack Modules to customize their experience.
Ritual – Go to the frozen wasteland of the Martian polar core. The UAC has recreated cultish experiments around a demonic artifact. Activate the artifact when enemies are nearby to engulf them in hellfire.
Cataclysm – Visit an off-world space station. The UAC has opened a permanent portal to Hell in this map with split environments and player teleporters.
Offering – Discover an ancient temple fortress built on a pool of Argent energy in this map featuring ancient hell environments, lava pools, and deadly voids.
UAC EMG Pistol
Master the fast-firing sidearm and its secondary fire to charge a powerful energy shot that deals significant damage.
Kinetic Mine
Deploy this explosive, proximity-activated mine that when triggered, launches toward its target, doing area-effect damage on impact.
Customize Your Experience
Leave your flesh behind and customize your character with the ruthless style of these cold machines.
Originally announced as under development as Doom 4 in 2008. The game underwent an extensive development cycle. Furthermore, there were different builds and designs before being restarted in 2011. The old version of the game was described as "Call of Doom". The new version was inspired by rock and roll.
Let us know what you think of the new Doom Unto the Evil.