The new President-Elect, Donald Trump has been in the news for more than two years for all the possible reasons, be it good or bad. He made one of the most iconic histories and wrote it in the pages of American antiquity by becoming a non-political President-elect. Though he is still nearly two months away from his actual oath-taking ceremony as the President of USA, but he is making headlines every now and then.
Baki The Grappler is one comic that has Presidents of the USA as its regular guests and this time, Trump took the card and appeared in the comic in its latest sequel, Baki-Dou which was released on November 24, 2016, the issue of Weekly Shōnen Champion. In the chapter, he meets the strongest character of the iconic series, the one who is phenomenal in the martial arts capability i.e. Yujiro Hanma.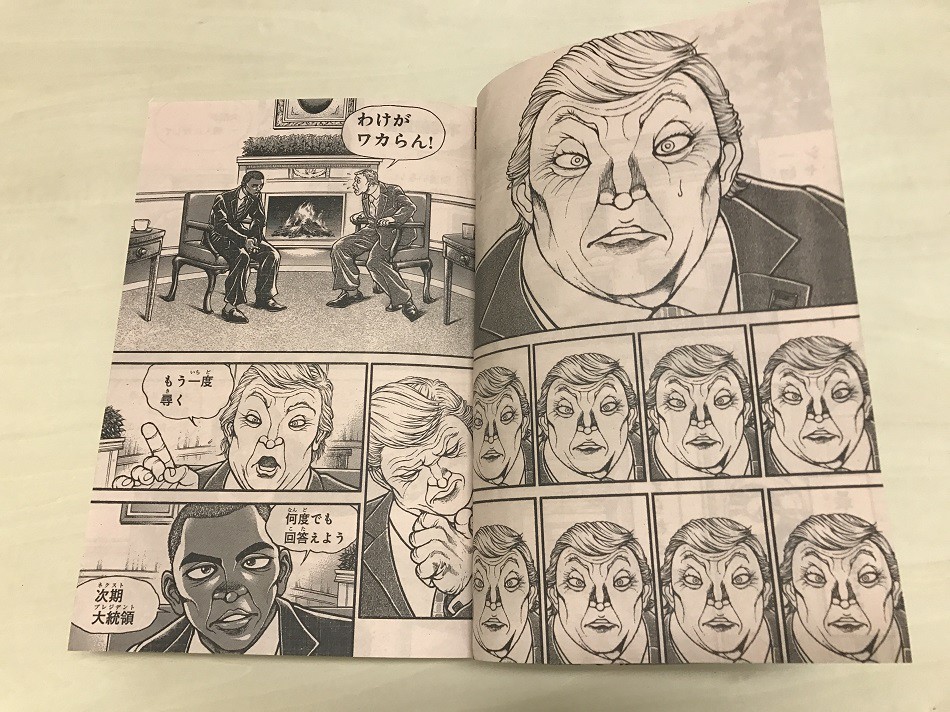 In the scene it is demonstrated that Obama is discussing some top secret information with Trump and in the same moment, Trump is bragging his writing skills and that is the time when Yujiro appears. Since Yujiro is a classic muscle man, Trump wets himself at his sight. A hilarious stage shared by three internal characters. Yujiro is the considered as the strongest man on earth and hence the fear amongst others who share the same screen with him. Well, the history of Baki The Grappler is crazy; it was released in 1991 as a part of Weekly Shōnen Champion magazine.
Since 1991, the series of the epic release of classic comics has started which means humor and sarcasm at the same time. Well, all now we can do is wait for the next jolt of humor by the iconic magazine.