DJI Mavic Pro is one of the most popular drones of last year. The leaked photos of an upcoming drone from DJI that is pegged to launch with "Spark" moniker appears like a smaller edition of Mavic Pro. As of this writing, there is no information available on when the DJI Spark drone will be officially made available.
Leaked pictures of the DJI Spark drone that had appeared on Chinese forums have been taken down. Even though the images have been circulated and published on various tech/gaming portals, there is no confirmation on the original uploader.
As it can be seen in the image, when the arms of the DJI Spark are unfolded, it looks quite smaller than DJI Mavic Pro. The bottom side of the drone features sensors that are facing downwards. The camera is placed at the frontside of the DJI Spark and it appears that its movement will be only limited to tilting up and down. There are some additional sensors placed above the camera. Probably, one of the sensors that are positioned above can avoid obstacles.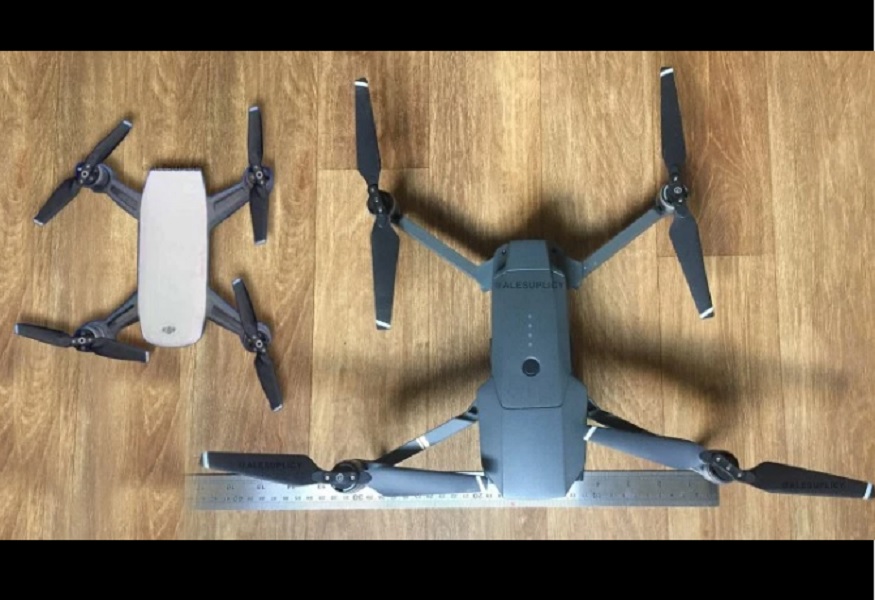 The battery design of DJI Spark also resembles with that of Mavic Pro.  It seems to feature four contract points which means these may either used for landing or as charging dock. There is no concrete information available  on what kinds of customers the DJI Spark drone will be targeted. Speculations have it that it may be a selfie-centric or a racing drone.
The gesture controllers as well as the compact design of DJI Spark may possibly allow uses to snap amazing selfies in the sky. Also, the anti-collision feature coupled with small design also suggests that it could be targeted towards drone racing. Drone racing is expected to become mainstream as International Drone Racing Association and ESPN have signed a three year deal in 2016.
DJI has not confirmed any information on the rumored Spark drone. Some of the unsolved questions on Spark are: Will it be coming with foldable arms even though it has a compact body? Will it cheaper costing lesser than DJI Mavic Pro which is priced at $1,000? Now that the leaked images of the DJI Spark, its unveil seems to be drawing near. The entire gallery of leaked shots of DJI Spark is available here.