Ubisoft has announced that The Division player Chaos 3KS is the first player in the world to reach the Dark Zone mode level cap, i.e. Level 99. Take a look at the picture below, showing off his stats.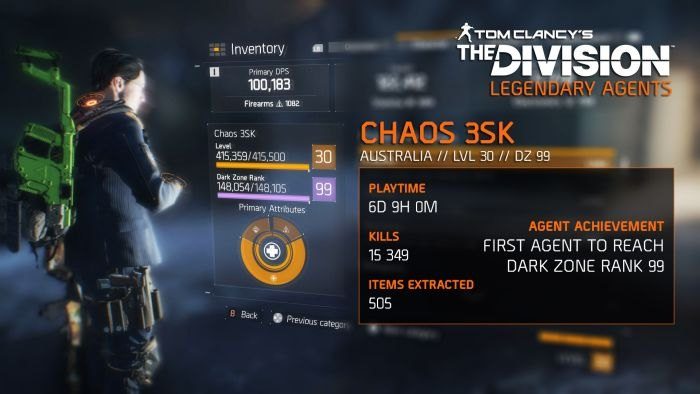 Chaos 3KS played the game for 130 hours (6 days and 9 hours) to become the first player in the world to reach both max level (30) and max Dark Zone rank (99) in only a week since the game's release. To achieve a feat like this, the player had to be an early bird: he started playing the game 41 seconds after the servers were switched on. He apparently killed 15,349 people to get to where he is, which is certainly prolific.
Writing on Reddit, Chaos 3SK thanked Ubisoft Massive and stated that he was still having fun playing the game. He also confirmed in the thread that 99 is the final level you can achieve in the game. Of course, this cap will likely increase over time as Ubisoft Massive releases new updates and DLC for the game.
The first major update for the game is slated to release soon, in April or May, followed by full paid expansions coming later in Summer.
How far in are you in The Division? Let us know in the comments below.